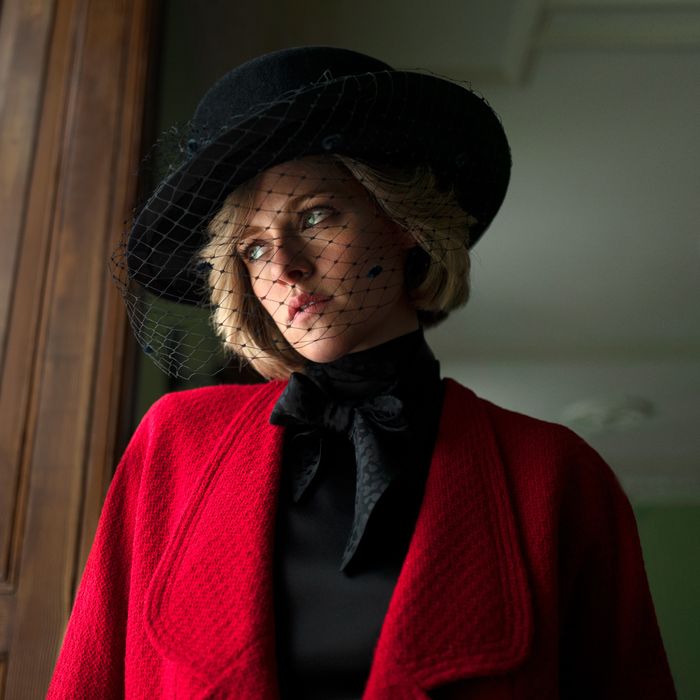 Kristen Stewart as Diana.
Photo: NEON
Over a decade ago, Kristen Stewart shot to superstardom for playing a naive young woman who fell in love with a much older man and who, in order to be with him, had to sacrifice her humanity and endure constant harassment by bloodsucking monsters. Now, years after the first Twilight movie, Stewart is stepping into a nearly identical role: that of Diana Spencer, princess of Wales.
On Wednesday, producers released the first image of Stewart as Diana for director Pablo Larraín's upcoming biopic, Spencer. The movie, which is currently being filmed in Germany and is expected to premiere in the fall of 2021, takes place over one holiday weekend in 1991, during which Diana decides to leave Prince Charles. (It's not clear yet who will play Charles.)
"'Spencer is a dive inside an emotional imagining of who Diana was at a pivotal turning point in her life," Stewart said in a statement to Variety. "It is a physical assertion of the sum of her parts, which starts with her given name: Spencer. It is a harrowing effort for her to return to herself, as Diana strives to hold onto what the name Spencer means to her."
Stewart's resemblance to Diana in the promotional picture is eerie, but how will her performance stack up against that of The Crown's Emma Corrin — or of Naomi Watts, who portrayed the princess in 2013's Diana (a movie Watts later described as a "sinking ship")?
Unfortunately, because it's set years into their marriage, we won't get to see the moment Charles and Diana first meet. But we can probably imagine what that scene would be like …