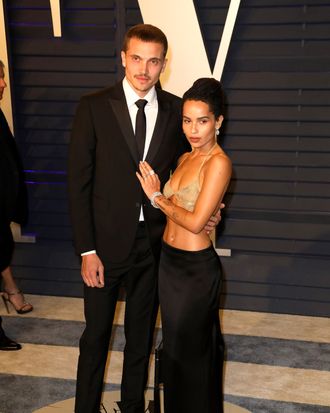 Zoë Kravitz and Karl Glusman.
Photo: TONI ANNE BARSON/FilmMagic
Roughly 1.5 years after marrying Karl Glusman in a chill secret ceremony, Zoë Kravitz has reportedly filed for divorce. A rep for Kravitz "exclusively" confirmed the split to People on Saturday.
The actors were reportedly set up by a mutual friend sometime in 2016, and went public with their relationship in October of that year. They got engaged in February 2018, a development Kravitz casually announced to Rolling Stone in a cover story that ran months after the fact. "Oh yeah, I'm engaged," she replied after the writer pointed out her ring. "I haven't told anyone yet — I mean, I haven't told the world. I wanted to keep it private."
Kravitz and Glusman — best known for his role in the movie Love — married (just as quietly) in a civil ceremony sometime in the spring of 2019. Then, in July 2019, they threw a big party at the father of the bride's (musician Lenny Kravitz, of large scarf fame) Parisian mansion. This was a very stylish affair, attended by nearly all Kravitz's Big Little Lies co-stars — Laura Dern, Reese Witherspoon, Nicole Kidman, and Shailene Woodley were all there; Meryl Streep was reportedly absent. Kravitz arguably looked the most stylish of all, wearing a white bra top and bike shorts under a beaded crochet dress for the rehearsal dinner.
Neither of the actors has publicly confirmed the divorce, although according to People, Glusman has removed all photos of Kravitz (and all his old photos) from his Instagram account. Meanwhile, Us Weekly reports that the High Fidelity star made a "cryptic" post to her stories (labeling a meme about dumping "people places and things that no longer serve my greatest and highest good" with the word "mood") on Saturday. No word yet on who will retain custody of their dog, Scout.