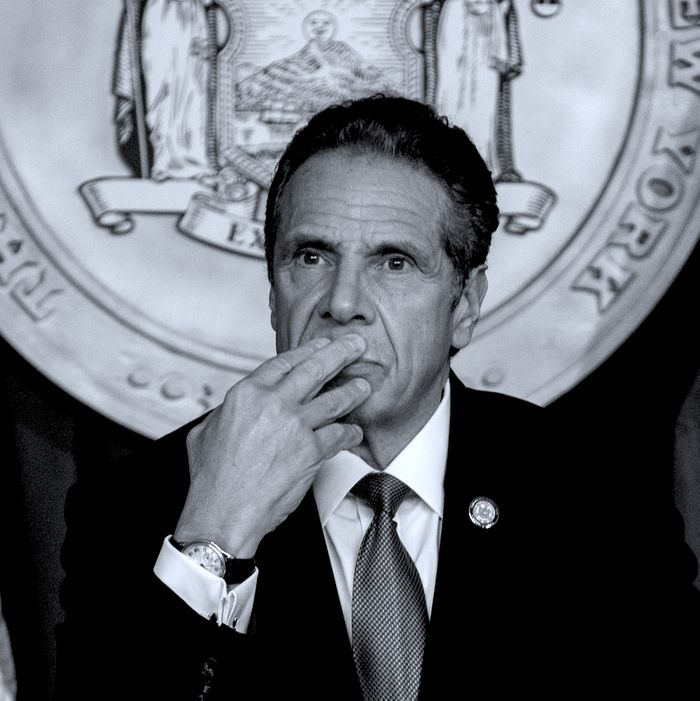 Governor Andrew Cuomo.
Photo: JEENAH MOON/Bloomberg via Getty Images
Earlier this week, a former aide to New York governor Andrew Cuomo published a Medium essay, describing a toxic workplace culture in which she says his "sexual harassment and bullying" were allowed to thrive. Now, a second woman has come forward with a similar account. Although she says Cuomo never made any physical advances toward her, Charlotte Bennett — who worked as an executive assistant to the governor for roughly a year — told the New York Times he made his interest in a sexual relationship clear.
Bennett, 25, told the Times that she "got along really well" with her boss after becoming an executive assistant in mid-2019, and that she "saw him more as a father figure": In middle school, she had played soccer against one of his daughters. But eventually, she says his perception of his mentorship role shifted. Cuomo seemed to develop a fixation with the fact that she was a survivor of sexual assault, she said. And then, on June 5, she told the Times that Cuomo held her back in his office and began questioning her repeatedly about her personal life. To Bennett, he appeared to be gauging her interest in monogamy, and in a relationship with an older man. "He asked me if I believed if age made a difference in relationships and he also asked me in the same conversation if I had ever been with an older man," she told the Times.
According to Bennett, Cuomo said he'd felt lonely since his break-up with celebrity chef Sandra Lee, and talked about "wanting a girlfriend, preferably in the Albany area." Bennett texted friends after the conversation, messages the Times reviewed, that Cuomo had stressed how "age doesn't matter" to him, and that he said he'd be "fine with anyone above the age of 22."
"I understood that the governor wanted to sleep with me, and felt horribly uncomfortable and scared," she said. "And was wondering how I was going to get out of it and assumed it was the end of my job."
In a statement, Cuomo told the Times that he "never made advances toward Ms. Bennett, nor did [he] ever intend to act in any way that was inappropriate." Although he reportedly did not deny asking his aide personal questions, he said that "the last thing [he] would ever have wanted was to make her feel any of the things that are being reported." He said she had "every right to speak out," and noted that he had requested an independent review of the claims.
Bennett's account was published just days after Lindsey Boylan accused the governor of sexually harassing her and, on one occasion, kissing her on the lips at the end of a work meeting. Cuomo denied the allegations — calling her claims "quite simply false" through a spokesperson — but Bennett shared her support for Boylan on Twitter.
Bennett says she told friends (including a colleague within the Cuomo administration) and her parents about the June 5 encounter, and brought it to the attention of his chief of staff, Jill DesRosiers, on June 10. She described DesRosiers as sympathetic, transferring her to the Department of Health within days. Beth Garvey, special counsel to the governor, told the Times that making Bennett a health policy advisor fulfilled "a longstanding interest" of hers, and that her "she was consulted regarding the resolution, and expressed satisfaction and appreciation for the way in which it was handled."
But in November, Bennett left Cuomo's administration: "His presence was suffocating," she said of her decision. "I was thinking that I could recover and have distance but that is so naïve."
Read the full report here.