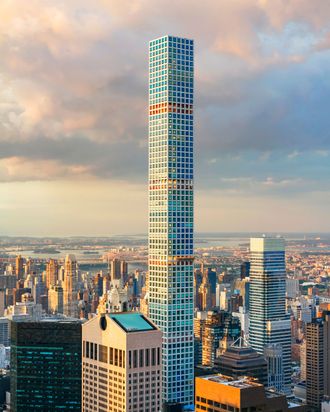 432 Park.
Photo: doble-d/Getty Images/iStockphoto
Since 432 Park Avenue was erected in Manhattan half a decade ago, members of the ultrawealthy have shelled out millions of dollars — in one case, as much as $88 million — to get their own luxury condos in one of the tallest buildings on "Billionaire's Row." But what was once believed to be a literal pinnacle of high living has turned out to be the most wretched of hellholes: The $3.1 billion building is falling apart, largely due to its unreasonable height and design flaws. And its billionaire residents — who are butting heads not only with developers but with one another — are dismayed.
This rich source of Schadenfreude comes to us from the New York Times, which spoke with the building's engineers and residents and obtained various documents giving us a glimpse into their 1,400-foot-tall stomping grounds. In short, it's pretty bleak in there. Among the building's biggest issues is its plumbing, which has caused frequent flooding and extensive water damage. In November 2018, 432 Park suffered major back-to-back leaks — one of which propelled water into elevator shafts, shutting them down for weeks. The plumbing issues even prompted one potential resident to back out of a $46.25 million deal after the building experienced a "catastrophic water flood."
And then there are the elevators themselves. Residents say they suffer frequent malfunctions; in one particularly horrifying incident in October 2019, "a high-wind condition" caused one person to be "entrapped" in an elevator for nearly an hour and a half, per a management email. Apparently, in a building this tall, wind-related elevator issues are not uncommon; neither is unsettling noise, of which residents also complain. According to notes from an owners' meeting, eerie creaking and groaning noises often resonate in the apartments, and somewhere in the building exists a garbage chute "that sounds like a bomb" when trash is thrown into it.
What's more, residents are now required to spend $15,000 in annual fees for the building's private restaurant, which is run by a Michelin-starred chef, though when 432 Park opened, they were told this cost would be merely $1,200. And get this: Breakfast is no longer on the house.
The mood in the building could be described as tense. While one of the developers maintains that 432 Park "is a successfully designed, constructed and virtually sold-out project" — or so the firm told the Times in a statement — residents charge that the building is in shambles and that they shouldn't be forced to cover its myriad problems through insurance and common-charge hikes. This isn't a neat residents-vs.-developers narrative, though, as the former are anything but a unified front. According to Sarina Abramovich, who bought a $17 million apartment in 2016 so she and her husband could have a second home close to their children, "Everybody hates each other here." Well, we hope it was all worth it!