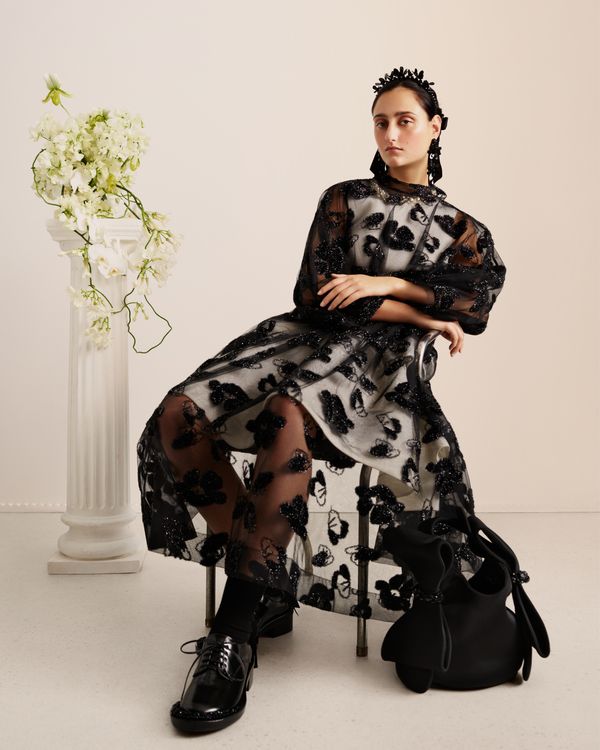 A month after H&M announced that Simone Rocha, Queen of the New Weird, will be its newest designer collaborator, the full look book has finally arrived. And if it were a physical book, it would've surely come wrapped in tulle, tied with ribbons, and embellished in pearls. The clothes in the collection represent ideas and inspirations that have shaped Rocha and her brand over the last ten years. As expected, it's all whimsical and ultra-feminine, but one dress in particular speaks to the budding goth in us all.
The dress in question is sort of a cross between two pieces from past collections, both black tulle smock dresses with puff sleeves that were worn unconventionally. In the fall 2019 collection, which explored themes of tenderness and sexuality from the work of Louise Bourgeois, the dress was layered over suiting. And in the spring 2020 collection, inspired by troublemaking punk-ish boys in Ireland, it was thrown over a timid white dress. Chunky lace-ups completed the look both times.
The new version has tinsel embellishments. Rocha has paired it with an adolescent shift dress fit for a baptism. It hints at the transition from innocence to darkness, and perhaps an acceptance of melancholy and simply being a baddie. If this all feels a little overly philosophical, you could also just say that Goths are a thing right now in fashion.
The collection isn't available until March 11, but you can start your wish list by going through all the looks here.