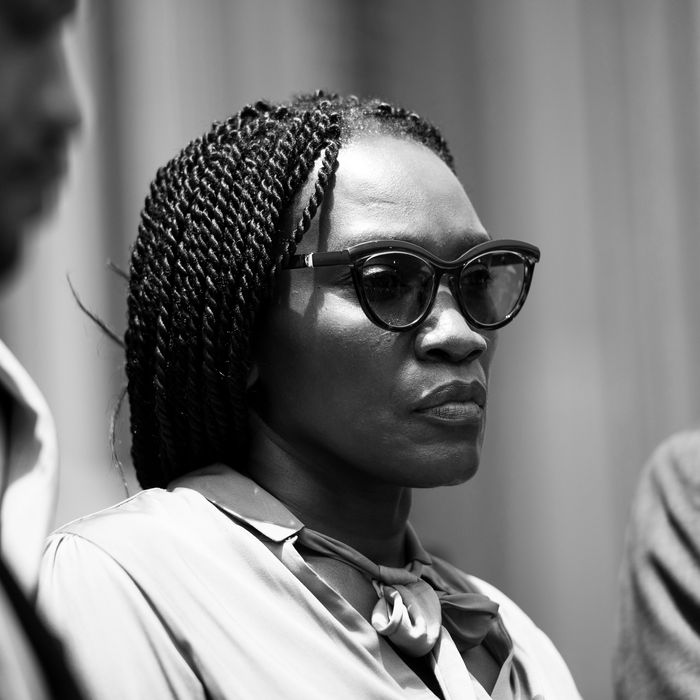 Wanda Cooper-Jones, the mother of Ahmaud Arbery, who was shot to death while running in February 2020.
Photo: Sean Rayford/Getty Images
On the anniversary of Ahmaud Arbery's murder, his mother, Wanda Cooper-Jones, has filed a federal civil-rights lawsuit against the three white men who chased down, shot, and killed her son while he was jogging around a Georgia neighborhood in the light of day. Cooper-Jones says she wants to see the local police and prosecutors held accountable, as she believes they covered up the circumstances of her son's death in order to protect his killers.
"When I laid Ahmaud to rest, one of the last things I shared with my son was, I will fight for you son," Cooper-Jones told a local outlet. "Now it has been revealed what happened. My fight turns into justice."
Arbery was killed on February 23, 2020, but it wasn't until May that his death became a national flashpoint, when graphic video of the encounter went viral. In the video, two white men can be seen aggressively pursuing Arbery as he runs around a neighborhood outside Brunswick and fatally shooting him. The video, perceived to be yet another incident of racial profiling made deadly, elicited widespread outrage — especially since none of the men had, at that point, faced any repercussions for Arbery's death. Two days after the video started to circulate widely, more than two months after the shooting, the men — Gregory McMichael, a former police officer, and his 34-year-old son, Travis — were finally taken into custody and charged. In June, the McMichaels, as well as William "Roddie" Bryan, who captured Arbery's last moments on camera, were indicted on murder charges.
In interviews with law enforcement, Gregory explained that they chased down Arbery because they thought he resembled a suspect who had committed burglaries in the nearby Satilla Shores neighborhood. While they had effectively no evidence — just the color of his skin — the lawsuit claims they were "deputized" to act by local police. The lawsuit cites texts between Glynn County police officer Robert Rush, who is named as a defendant in the lawsuit, and the owner of a construction site that Arbery wandered around the day he died; in the texts, the officer instructs the owner to contact McMichael if the surveillance footage ever shows any strangers on his property. (Glynn County Police Chief John Powell, as well as number of other country officers, are listed as defendants.)
"These men believed that they had authority to pursue the man on the Construction Lot because they had been deputized by the Glynn County Police Department," the lawsuit reads.
The suit also names district attorneys Jackie Johnson and George Barnhill, accusing them of delaying the arrests of the suspects, owing to their personal relationship with Gregory McMichael. (McMichael had worked as an investigator in Johnson's office; he had also worked alongside Barnhill's son.) Both prosecutors ended up recusing themselves from the case, but before Barnhill did so, he issued a lengthy letter, writing that he had found "insufficient probable cause to issue arrest warrants."
In statements to ABC News, attorneys for Travis McMichael and Bryan said they expected a lawsuit of this nature. While Travis's lawyer, Robert Rubin, had not yet read the suit, he said, "I don't expect Travis McMichael will give them the money they are seeking."
But Arbery's family is prepared to fight. "Justice for this family looks like going after the system that justified it, that allowed these men (the McMichaels and Bryan) to run free for months, that failed to prosecute properly, that offered racist explanations or why the shooting was justified," attorney Lee Merritt, who represents the family, told ABC News. "Miss Cooper is a fighter, and she's instructed us to take no stops on the road to justice."
All three men currently await trial. They have pleaded not guilty on all the charges against them: Bryan of murder and attempted false imprisonment, and the McMichaels of aggravated assault and murder.