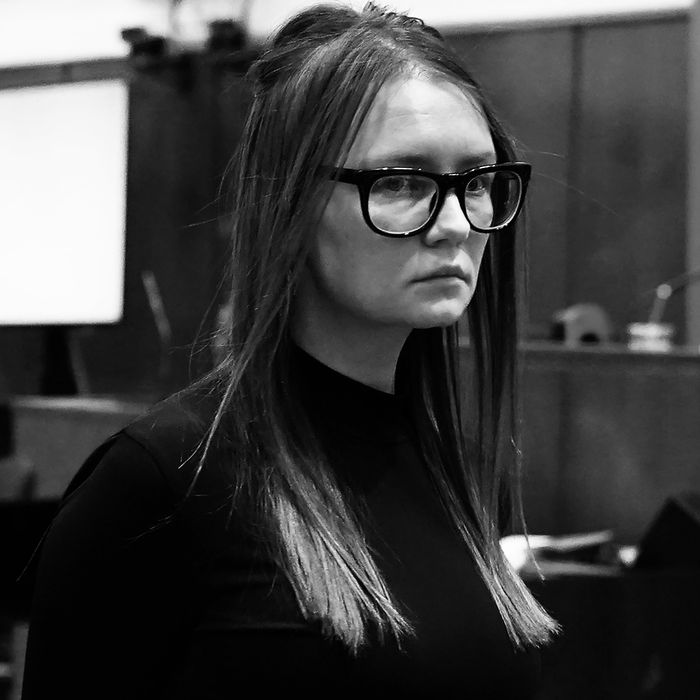 Anna Sorokin, a.k.a. Anna Delvey.
Photo: Timothy A. Clary/AFP via Getty Images
Anna Sorokin, 30 — better known by her alias Anna Delvey, who swindled banks and moneyed Manhattanites out of hundreds of thousands of dollars — is out of prison. After serving nearly four years, NBC News reports, Department of Corrections records say that Sorokin was released Thursday night on parole from the Albion Correctional Facility in upstate New York.
Brazen and glamorous, Sorokin's elaborate grift is the stuff of legends. For years in the mid-2010s, she scammed institutions and the global elite by pretending to be a German heiress with a deep trust fund — when in fact she was a Russian immigrant from a middle-class family. And then, after hotels and individuals started to catch on to her trickery and fraudulent activity, her ruse unraveled. In October 2017, she was booked into Rikers Island, where she awaited trial. Then, in April 2019, Sorokin was found guilty of charges that include grand larceny and theft of services, and of stealing more than $200,000. She was not, however, convicted on two other serious accusations: that she faked records in an attempt to secure a $25 million loan for a private arts club she wanted to open, and that she stole $60,000 from one of her friends-slash-victims to cover a lavish vacation in Morocco. The following month, Justice Diane Kiesel sentenced Sorokin to 4 to 12 years in prison.
"I am stunned by the depth of the defendant's deception," Kiesel said when handing down the sentence in May 2019. While Sorokin told the court she was sorry for "the mistakes I made" ahead of her sentencing, she changed her tune the day after she was handed a prison sentence, telling the New York Times, "I'd be lying to you and to everyone else and to myself if I said I was sorry for anything."
Since then, Sorokin's had a change of heart, and does in fact regret her actions — or so she said during a parole hearing last October. "I just want to say that I'm really ashamed, and I'm really sorry for what I did," she told the board. Last month, Sorokin reportedly used $200,000 of the $320,000 she received from Netflix — which is making a series about Delvey based on a 2018 feature story published by the Cut — to pay her victims restitution. According to Insider, she was released from prison on good behavior, but now risks deportation to Germany, as authorities charge that she has overstayed her visa.
Meanwhile, in the less than 24 hours since she's been out, Sorokin has posted a flurry of photos to her Instagram, where she sporadically shared drawings while she was incarcerated; created a Twitter account; and written new entries for her prison blog, Anna Delvey Diaries, which she launched last November.