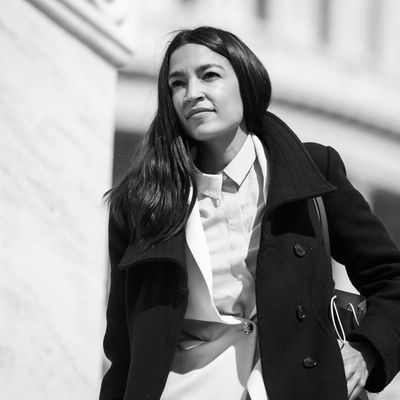 Alexandria Ocasio-Cortez.
Photo: Tom Williams/CQ-Roll Call, Inc via Getty Imag
It's really quite remarkable all the ways you can help provide relief to Texas — where millions went days without power in single-digit temperatures after a massive winter storm crippled the state's power grid — when you're not rushing back from an ill-advised trip to Cancún. You can organize hundreds of thousands of welfare check-in calls with the elderly, ensuring that they have access to water and shelter. You can donate to a mutual-aid effort. You can volunteer at emergency warming shelters, which have proliferated across the state to provide relief for the cold and the unhoused.
You can even raise a million dollars in direct relief for suffering Texans in under a day, as did Alexandria Ocasio-Cortez, whose constituents live more than 1,000 miles away from the Lone Star State. "Totally blown away," the New York representative tweeted late Thursday night, announcing that the fundraiser she started earlier that afternoon had already received more than $1 million in donations. Ocasio-Cortez then said she'll be going to Houston this weekend "as a thank you to everyone who contributed & amplified," and to meet with Representative Sylvia Garcia to highlight the dire situation in Texas.
According to Ocasio-Cortez's fundraiser site, donations will be divided among five organizations that have been providing on-the-ground support to homeless, hungry, and elderly Texans: the Bridge Homeless Recovery Center, Ending Community Homeless Coalition, Family Eldercare, Houston Food Bank, and Feeding Texas.
While the number of homes and businesses without power has dropped significantly since the storm descended upon Texas last weekend — from over 4 million at its worst to about 200,000 now — the state is still mired in crisis. More than 14 million Texans are experiencing water-service disruptions and do not have access to drinkable water. Bursting pipes led to water damage in many buildings, including a domestic-violence shelter in Dallas, where the ceiling caved in, dumping freezing water onto more than 120 women and children, as the New York Times reported. In the past few days, at least 30 people have suffered weather-related deaths, according to the Washington Post; many died from desperate, dangerous efforts to warm their homes, including an 11-year-old boy, whose cause of death is presumed to be hypothermia.
It was against this backdrop that Senator Ted Cruz decided he deserved a tropical getaway and slipped off to Cancún on Wednesday night with his wife and daughters. After word spread that the senator was slinking off on an extravagant vacation amid a humanitarian crisis in his state, though, he headed back home. While Cruz claimed in a statement that he always intended to return on Thursday morning, the evidence that has since emerged indicates otherwise.
It was a dereliction of duty that has been widely, rightfully panned, including by Ocasio-Cortez herself. As she tweeted earlier on Thursday, "If Sen. Cruz had resigned back in January after helping gin up a violent insurrection that killed several people, he could've taken his vacation in peace. Texans should continue to demand his resignation."