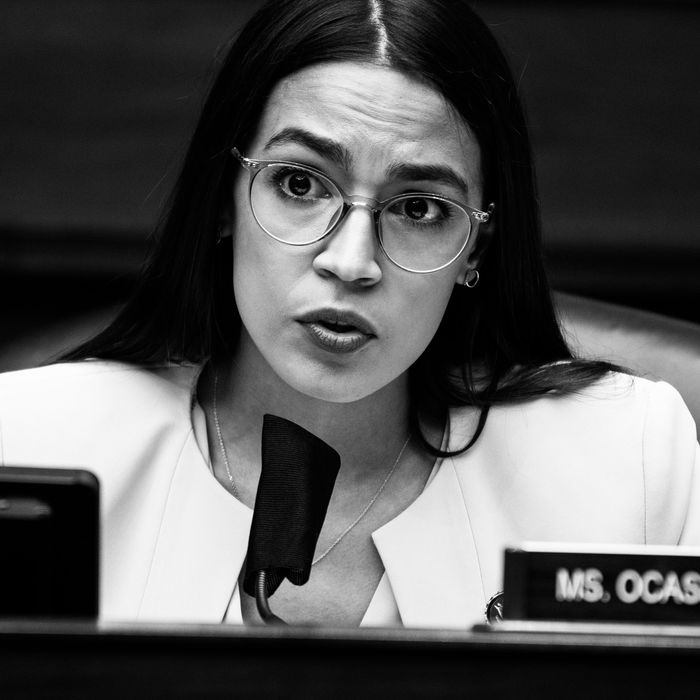 Alexandria Ocasio-Cortez.
Photo: Tom Williams-Pool/Getty Images
Nearly a month ago, when a lawless mob of Trump supporters rampaged through the U.S. Capitol, Alexandria Ocasio-Cortez says she had "a very close encounter" that led her to believe she "was going to die." On Monday night, the progressive representative returned to Instagram Live to describe in more detail that harrowing experience — but before getting into it, she took a moment to address some comments from Republicans, who have said she should simply move past the incident.
Through a quivering voice, Ocasio-Cortez acknowledged that she was "getting emotional" but that these calls to move on — "that it's not a big deal, that we should forget what's happened" — are both unacceptable and demoralizing. "These are the same tactics of abusers," Ocasio-Cortez said. She then revealed she was a survivor of sexual assault, adding, "I haven't told many people in my life." ("It's not a thing about hiding or anything like that," she explained, "but sometimes you just can't tell the same story over and over.")
"When we go through trauma, trauma compounds on each other," she continued. "And so whether you had a neglectful parent, or whether you had someone who was verbally abusive to you, whether you are a survivor of abuse — whether you experience any sort of trauma in your life small to large, these episodes can compound on one another."
Though this is the first time Ocasio-Cortez has publicly referenced her own experience with sexual assault, she has repeatedly used her congressional platform to stand up against abuse. During Trump's State of the Union address in February 2019, she selected Ana Maria Archila — one of the women who confronted Senator Jeff Flake in an elevator during then-Supreme Court nominee Brett Kavanaugh's confirmation hearings — as her guest, with the hope that Archila's presence would serve as a reminder to all survivors that they "will not be silenced, diminished, or forgotten." Then, after Republican Representative Ted Yoho accosted Ocasio-Cortez on the steps of the Capitol last July, allegedly calling her "rude" and a "fucking bitch," Ocasio-Cortez took to the House floor to signal that no one should tolerate such sexist vitriol. "I could not allow my nieces, I could not allow the little girls that I go home to, I could not allow victims of verbal abuse and worse to see that," she said in a blistering speech, later adding, "and I have to show my parents that I am their daughter and that they didn't raise me to accept abuse from men."
Ocasio-Cortez went on to describe what happened to her during the insurrection. She recalled hearing a man yelling, "Where is she?" as she hid in her office bathroom. "This is the moment where I thought everything was over … It felt like my brain was able to have so many thoughts in that moment between these screams and these yells." Through the door hinge from the bathroom, she was then able to see the apparent source of the cries: a Capitol police officer who looked at her with "a tremendous amount of anger and hostility." Eventually, Ocasio-Cortez and a staffer were able to flee and find shelter in the office of Representative Katie Porter.
In last night's livestream, Ocasio-Cortez sent a resilient, defiant message, emphasizing that she would not be silenced: "I'm not going to let it happen to me again. I'm not going to let it happen to the other people who've been victimized by this situation again." As she noted at one point: "We cannot heal without accountability. All these people telling us to move on are doing so at their own convenience."