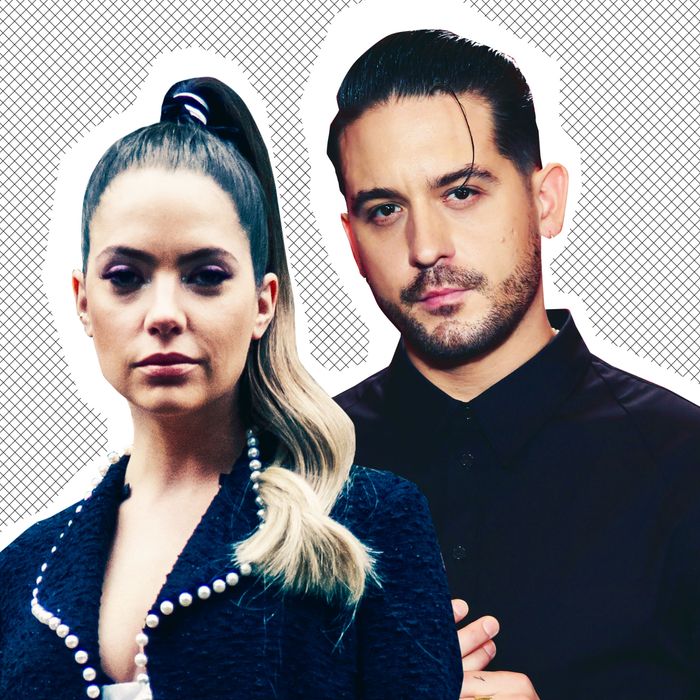 Ashley Benson and G-Eazy.
Photo: Getty Images
Wow. Can you believe it was nearly a year ago — okay, ten months ago — we learned of the unfortunate dissolution of one of the most endearing celebrity couples, Ashley Benson and Cara Delevingne? And then, a week later, while we were still processing the breakup, the former was spotted with the rapper known as G-Eazy? Anyway, the Pretty Little Liars actress and Mr. Eazy have been together this entire time — or, well, up until now.
Days after Benson's fans noticed that she was no longer following G-Eazy on Instagram, an anonymous source confirmed to E! News that the pair has indeed called it quits. The news might come as a shock to some. Just a few months back, they were rumored to be getting "very serious," and they've been spotted in public together often, seemingly enjoying each other's company. A little over a week ago, Benson and G-Eazy were photographed leaving the restaurant Nobu in Malibu, where the Daily Mail reports that they dined outdoors with some friends. Then, just a few days later, Benson sported her boyfriend's jacket while out for a stroll in West Hollywood.
But behind the scenes, trust and respect issues had been brewing for quite some time, according to sources, and this week, things finally came to a head. In a follow-up report, a source told E! News that the couple "had been fighting a lot recently," and said that Benson ultimately called it off because she "didn't like the way he was acting around her." While the source didn't elaborate on the circumstances behind the split, they added that Benson "felt he hadn't been fully committed to her" and that "she couldn't stand him talking about other women." Another source told People that "it did not end well."
That seems entirely plausible. Recall G-Eazy and Halsey's breakup in the summer of 2018; sleazy behavior was rumored to be a factor in that split as well, with one source telling E! News that Halsey got fed up with him "flirting with several girls in public." As the old adage goes, never trust a man with a Slut Bang — or perhaps more specifically, never trust a man who goes by "G-Eazy."