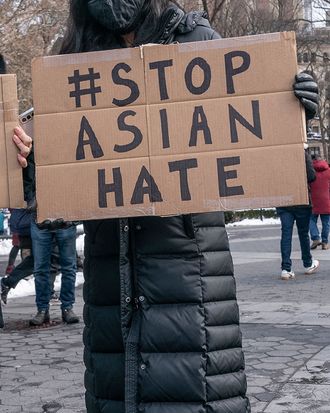 Photo: Pacific Press/Pacific Press/LightRocket via Getty Images
Amid a staggering nationwide rise of anti-Asian hate crimes, a 36-year-old Asian American man was stabbed in the back on Thursday evening while he was walking home though lower Manhattan. Police have since identified a suspect, 23-year-old Salman Muflihi, who WABC7 reports told authorities that he stabbed the man "because he didn't like the way he looked at him." Muflihi has been charged with attempted murder as a hate crime.
According to authorities, the unprovoked attack occurred around 6:20 p.m. near Daniel Patrick Moynihan U.S. Courthouse, where Muflihi approached the victim from behind and sunk an 8-inch knife into his back. Following the attack, police say, Muflihi sprinted to a security guard in front of the Manhattan District Attorney's office building, telling the guard, "I just stabbed someone. Where are the police at?"
Muflihi was arrested later Thursday evening. Meanwhile, the victim, who has not been publicly named, was rushed to Bellevue Hospital and admitted in critical condition. According to Assemblymember Yuh-Line Niou, who spoke with Gothamist on Friday afternoon, the victim's condition has not improved and he remains sedated. However, he is expected to survive.
While the police didn't initially consider the stabbing a hate crime, they are now treating it as such after connecting Muflihi to another attack on an Asian American man last month. He is now facing charges of second-degree attempted murder as a hate crime, as well as assault, forgery, and criminal possession of a weapon.
The U.S. has seen a massive spike in racist attacks against Asian Americans in the past year, which elected officials and activists largely blame on Donald Trump, who habitually deployed racist rhetoric for the coronavirus. In 2019, the New York Police Department received three reports of hate crimes against Asian Americans, according to the New York Times; in 2020, that number surged to 28. Between February and December of last year, there were more than 200 bias incidents against Asian Americans, according to city data; in 2019, there were 30. Already in 2021, there have been three cases of anti-Asian hate crimes that led to charges, including Thursday's stabbing.
And those are only the incidents that have been reported. "There was a lot of erasure of the hate crimes that were happening in the last year," Niou told Gothamist. "Many folks in our community still don't feel safe reporting and we have to do better to make resources accessible. We have a lot of work to do." After video footage went viral of a man attacking an Asian woman in Queens in broad daylight, Mayor Bill de Blasio announced that he would be in closer communication with community leaders.