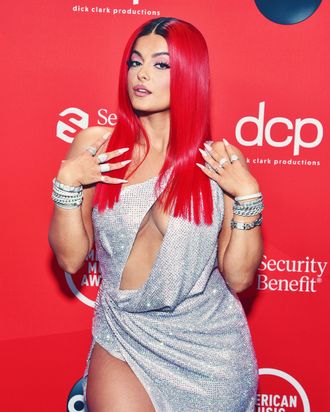 Bebe Rexha.
Photo: ABC via Getty Images
Bebe Rexha knows how to have a good time. When she's not tweeting inspirational tweets, performing on a glittery turkey, or gliding to craft services in a millennial-pink corset, the singer is reminding us she's also a beauty aficionado in equally 21st-century ways — like filming a stellar dark circle tutorial, playing a virtual concert on the app Triller to celebrate NYX Cosmetics's spring 2021 collection, or reviewing the new launches in an augmented-reality beauty shop with fans.
The Cut caught up with the Grammy-nominated artist to see what else she's been up to in lockdown, from hitting the hair dye to perfecting her very chill bedtime routine.
On self-care: 2020 was so weird, but I've taken these times and used them for self-care, both internal and external. I've learned to be grateful more than anything! In terms of my self-care routine, I've worked on getting more sleep, drinking more water, bike riding, and online candle shopping. I'm loving some of the new things I've learned about myself and my body.
On the five things that start her mornings: When I wake up, I squeeze Bear, my dog. Then I brush my teeth, check my phone, make some breakfast, and prepare my coffee.
On her bedtime routine: I CANNOT go to sleep with make-up on my face. So I definitely do a little face-cleansing routine before going to sleep. Then I'll get into my pjs and have a piece of chocolate before bed. Then I brush my teeth, and I will probably play Scrabble on my phone until I knock out.
On switching things up: I have the most amazing colorist, Tracey Cunningham, who has been getting my hair to a healthy and happy place. For a long time, we worked on my blonde, and then I went to a really fun red for my song "Baby, I'm Jealous." Now Tracey and I are experimenting with another change …
On her nail wardrobe: I change my nails so much. I love changing my nails for each look, each season, each holiday, each photo shoot — literally everything and anything. Right now, they're a metallic red, but tomorrow they'll probably be something totally different.
On virtual concerts: My band and my creative director are integral in setting it all up. I usually rehearse for a few days in tandem with daily vocal lessons to prepare, and then I work with my team on the set, the design, and the whole look; including my styling, my hair, my makeup, all the way down to my nails.
On her typical tour rider: I love candles. I drink hot tea before performing. And my dressing room needs to be filled with dozens of puppies, it's mandatory — just kidding … but I would love some puppies.
On what she'll be applying in 2021: I love the NYX cosmetics Shine Loud Lip — there are so many colors to play with, and they don't smudge. I wore Cash Flow for the concert on Triller, and the color stayed put for the entire performance. I also love full, filled-in eyebrows that accentuate our natural beauty. I'm glad that became a trend again. The new Brow Glue has a natural finish when it dries down, which makes it easy get that look. I also have to say, I'll be using shades from the Modern Dreamer Palette; the colors are so pigmented and pretty!