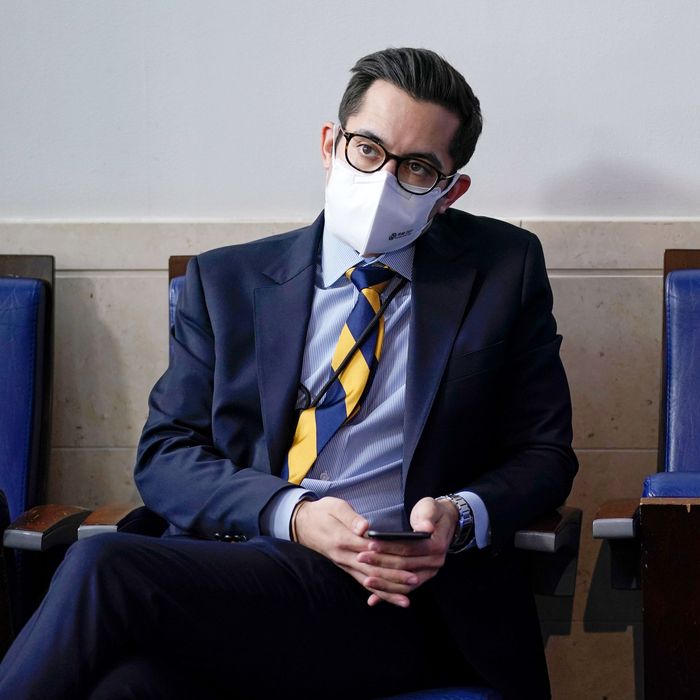 TJ Ducklo.
Photo: Patrick Semansky/AP/Shutterstock
Less than a month into Joe Biden's presidency, one of his top spokespeople has resigned over "derogatory and misogynistic" comments he made to a reporter. According a Vanity Fair report, deputy press secretary TJ Ducklo berated Politico's Tara Palmeri while she was working on a story about his romantic relationship with another journalist, threatening to "destroy" Palmeri and accusing her of being "jealous."
Initially, the White House suspended Ducklo, and on Saturday, he officially stepped down. "No words can express my regret, my embarrassment, and my disgust for my behavior," he wrote in a statement, posted to Twitter. "I used language that no woman should ever have to hear from anyone, especially in a situation where she was just trying to do her job. It was language that was abhorrent, disrespectful, and unacceptable."
Per Vanity Fair, in January, Palmeri — who is a co-author of Politico's Playbook — was assigned to report out a story that fits neatly into her beat: the then-unreported relationship between Ducklo and Axios political reporter Alexi McCammond, and the ethical questions it raised. On January 20, Palmeri contacted McCammond for comment, while one of her male colleagues reached out to Ducklo for the same. Things escalated rapidly. After Ducklo received the message, he called a Playbook editor to voice his disapproval, and was directed to speak with the reporters themselves. Rather than call the man who contacted him, Ducklo reached out to Palmeri and allegedly lashed out.
Per two sources familiar with the incident, during an off-the-record call, Ducklo told Palmeri "I will destroy you" if she were to go ahead with the story, and threatened to ruin her career. Ducklo also leveled sexist personal attacks at Palmeri, accusing her of being "jealous" of their relationship, and said that an unidentified man had "wanted to fuck" McCammond in the past "and not you." As Vanity Fair notes, Palmeri and McCammond had no prior relationship before the former was assigned to report on the latter. (Palmeri declined to comment.)
The next day, a Politico editor contacted the White House to discuss Ducklo's alleged threats, which prompted multiple conversations between the outlet and government officials. In one conversation, senior White House staffers acknowledged that Ducklo's conduct was unacceptable, sources say; however, in another, officials admonished Palmeri for telling her editors about the call, which they saw as a violation of an off-the-record agreement. (People broke the news of Ducklo and McCammond's relationship in a profile on Monday; Politico's reporting came out the following day.)
While Ducklo did not respond to Vanity Fair's request for comment, on February 12, hours after the report published, the White House announced that Ducklo would be suspended without pay for one week. According to the statement, issued by press secretary Jen Psaki, Ducklo has apologized twice to Palmeri, with "whom he had a heated conversation about his personal life," and "[acknowledged] this is not the standard of behavior set out by the President." Psaki also added that "he will no longer be assigned to work with any reporters at Politico" upon his return. This outcome left two Politico staffers dismayed, one telling CNN that "it feels like she is punishing us more than him."
In his statement, Ducklo said that — pursuant "a discussion with White House communications leadership" — he would not return from administrative leave.
"I know this is terrible. I know I can't take it back," Ducklo wrote. "But I also know I can learn from it and do better. This incident is not representative of who I am as a person, and I will be determined to earn back the trust of everyone I have let down because of my intolerable actions."
This article has been updated.