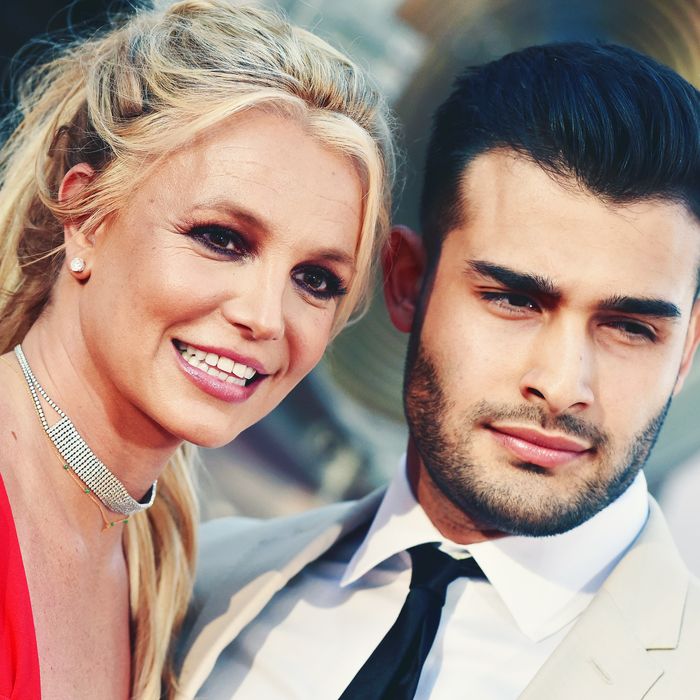 Britney Spears and boyfriend Sam Asghari.
Photo: Axelle/Bauer-Griffin/FilmMagic
Over the past week, a new New York Times documentary has brought increased attention to the "Free Britney" movement, a call from fans to free pop icon Britney Spears from her father Jamie Spears' legal conservatorship. Spears' father has been her legal conservator since 2008, meaning he has full legal control of her finances and many of her personal decisions. Spears herself has remained mostly silent about this arrangement, but this week, her boyfriend, Iranian actor and model Sam Asghari, spoke out publicly about Jaime Spears, calling him a "total dick."
"It's important for people to understand that I have zero respect for someone trying to control our relationship and constantly throwing obstacles our way," Asghari wrote in an Instagram story on Tuesday. "In my opinion Jamie is a total dick."
He added: "I won't be going into details because I've always respected our privacy, but at the same time I didn't come to this country to not be able to express my opinion and freedom."
The documentary, Framing Britney Spears, which was the latest installment of FX and Hulu's docuseries The New York Times Presents, looks back on how Spears was treated by the media and those around her as she shot to superstardom in the late nineties and early aughts. From the tabloid press, to her ex-boyfriend Justin Timberlake, to hangers on like her onetime sort-of manager Sam Lutfi, everyone wanted a piece of the wealth and attention that proximity to Spears could get them — even if all of that attention came at the expense of Spears' own well-being.
Is Jamie Spears another of these leeches? Though many suspect that's the case, it's hard to say for sure, given that, as conservatorship lawyer Adam Streisand points out in the documentary, "We don't know what we don't know." While Streisand — who Spears tried to retain as her attorney when her dad first took over as her conservator — said that Spears seemed to him like someone was more than capable of managing her own life and finances, he conceded that he did not know all of the details about the case and Spears' health. Still, the documentary certainly presents Jamie Spears as a father who was largely absent from his daughter's life until he found a way to profit from it. As one record executive recalled: "The only thing Jamie ever said to me was, 'My daughter's gonna be so rich, she's gonna buy me a boat.' That's all I'm gonna say about Jamie."
The documentary, and Asghari's statement, come at a time when Spears seems to be trying to free herself from, or at least alter the arrangements of, the conservatorship. In a hearing about the case in November, Spears said, through her lawyer, that she is "afraid of her father," and that "she will not perform as long as her father is in charge of her career."