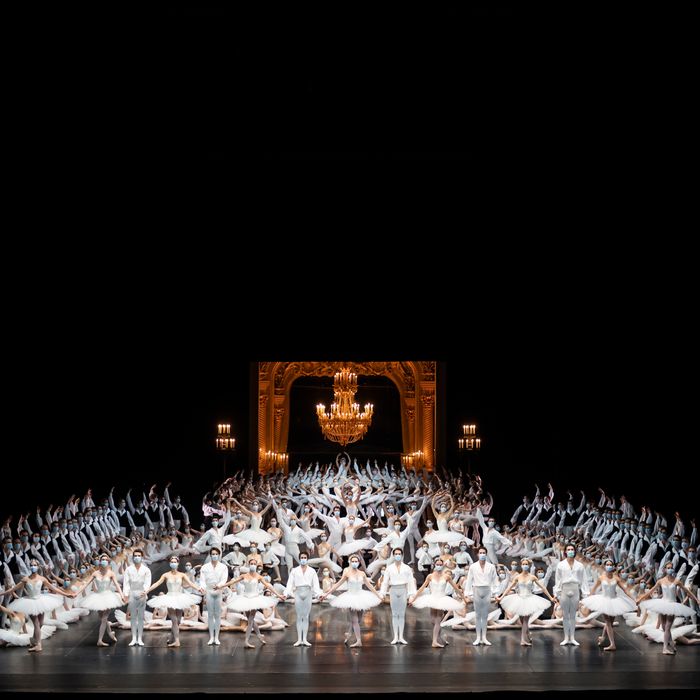 Photo: Courtesy of Paris Opera Ballet
Ballet plus Chanel seems like a match made in heaven, and thanks to the Paris Opera Ballet gala, that pairing came to life last Wednesday evening. Some dancers performed in pink pointe shoes and white tutus, some performed in Chanel, but each member of the 250-person ensemble wore a blue face mask as they gathered onstage for the first time in months.
The Paris Opera Ballet gala is typically one of the most anticipated events on the Parisian social calendar; this year, though, ballet enthusiasts had to enjoy the performance from behind a computer screen instead of inside the Palais Garnier opera house. The program began with the entirety of the company's troupe and students from the Paris Opera's ballet school performing the traditional "Défilé du Ballet," also known as the Ballet Parade. Each dancer floated down the stage with arms outstretched in second position as the music escalated, until every dancer was positioned under the lights. Each ballerina proudly sported a blue face mask to create a pretty remarkable, and incredibly 2021, image.
The ballet continued with a series of shorter duets and solo dances. Although these ballerinas weren't wearing face masks, they were wearing Chanel. The "Grand pas classique" features navy Chanel costumes with intricate, decorative beading to create the illusion of a dark night sky. The two ballerinas leaped and twirled across the stage in a way that would definitely make Coco proud.
It was an evening dedicated to incredible dance, exquisite costumes, and COVID-19 safety. You can enjoy the magic of the gala for yourself from here: