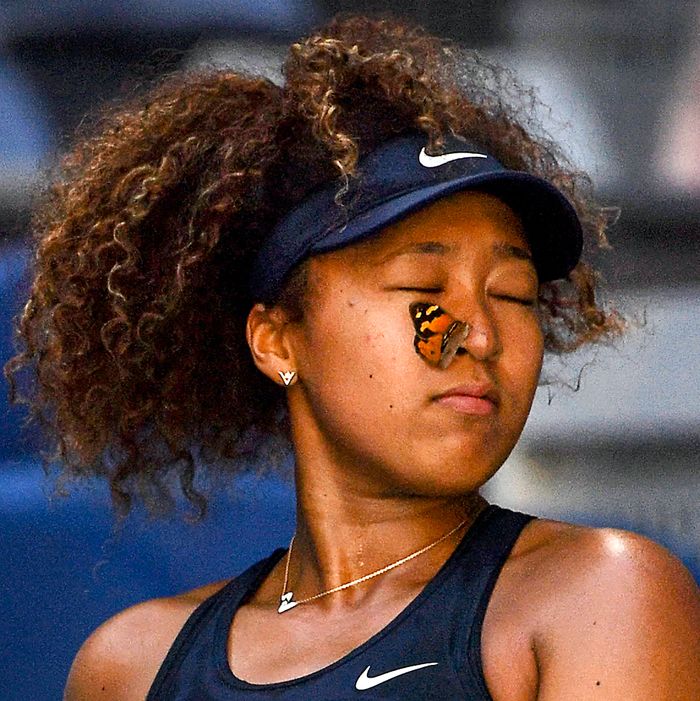 Just a little kiss.
Photo: PAUL CROCK/AFP via Getty Images
Apparently, there is a tennis tournament currently taking place in Australia, and though the games have not yet concluded, a clear winner has already emerged: The small, orange-and-black butterfly that landed on Naomi Osaka's face mid-match on Friday, intent on bestowing a blessing. Was the butterfly successful? Indisputably, yes.
Per reports, the butterfly was fluttering all around Naomi during her Australian Open match against Ons Jabeur, of Tunisia. When it landed on her hand, she paused play to make sure her new friend escaped annihilation by tennis ball.
Undeterred, the butterfly then went in for the cheek. It later settled on her leg as she prepared a serve, at which point — after a fan alerted her from the stands — Naomi delivered the butterfly safely off the court. The crowd went wild!
A butterfly to the face is obviously a good omen, one that arrived at an opportune time. "I was really nervous and scared because I didn't know if she was going to hit a drop shot on any ball," the 23-year-old subsequently said of her opponent, whom she ultimately beat 6-3, 6-2. Louis Vuitton's global ambassador then went on to "smite" (per the Guardian) two-time grand slam champion Garbiñe Muguruza, of Spain, on Sunday. Again, per the Guardian, she displayed "an astonishing exhibition of mental toughness," and "faced with the prospect of defeat" by an initially "faultless, disciplined" Muguruza, Naomi "simply elevated her level of the stratosphere" and "harassed Muguruza with violent groundstrokes" all the way to victory. Obviously, this win is not entirely attributable to butterfly intervention — Naomi Osaka is a formidable tennis force regardless — but also … just look at them.
Look at them!!
Thank you for your time.