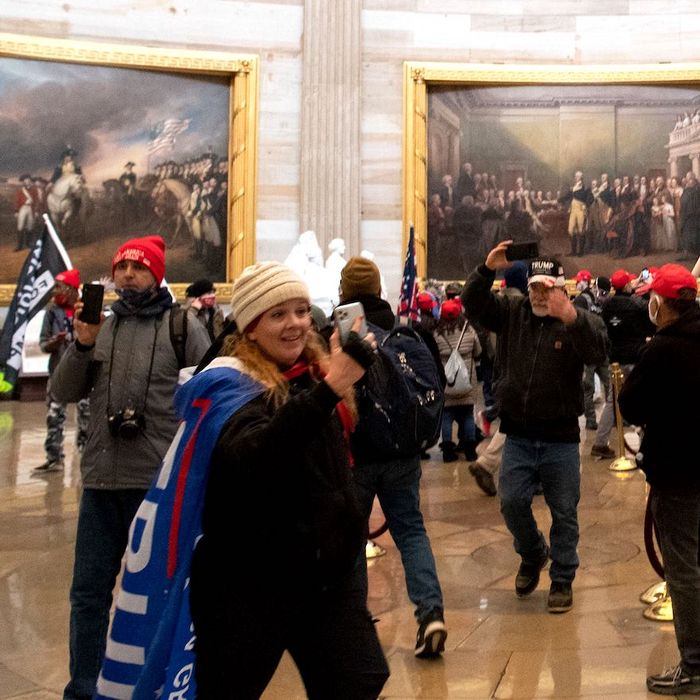 Jenny Cudd (left) has been charged for participating in the Jan. 6 Capitol riot. Now, she is petitioning a judge to let her keep her vacation plans, please.
Photo: SAUL LOEB/AFP via Getty Images
A woman charged in the January 6 Capitol riot is petitioning a judge to let her go on just one little vacation while her case is pending, noting in a court filing on Monday that her upcoming trip to Mexico was "planned and prepaid." What's more, USA Today reports that a U.S. magistrate granted the request.
"This is a work-related bonding retreat for employees and their spouses," Farheena Siddiqui, an attorney for accused insurrectionist Jenny Cudd, said of the scheduled four-day break in the Riviera Maya later this month, according to the Washington Post. "Ms. Cudd has appeared at her scheduled court appearance, remains in constant contact with her attorney, and has remained in contact with pretrial probation, as ordered."
A florist and formal mayoral candidate from Midland, Texas, Cudd was among the alleged rioters who posted about their participation on social media. "We didn't vandalize anything," Cudd said in a Facebook Live, "but we did … break down Nancy Pelosi's office door, and somebody stole her gavel." In other interviews, she described the mob as "patriots" and said she "would absolutely do it again." (It bears noting that five people died during the attack.) Cudd also emphasized to the Associated Press that she personally did not participate in any destructive behavior, and merely "walked through an open door … along with several hundred other people."
The FBI arrested Cudd on January 13, and now, she faces two misdemeanor charges: entering and remaining on restricted grounds and disorderly conduct. Prosecutors reportedly took "no position" on her time-off request.
Still, Cudd is not the only accused rioter who has been petitioning the courts for special treatment. Last month, a judge granted Jacob Anthony Chansley — a.k.a. Jake Angeli of Arizona, a.k.a. the horned, shirtless man you may recognize from various pictures taken inside Congress — a special organic diet in custody, because (to quote Chansley's mother) he allegedly "gets very sick if he doesn't eat organic food." Huh!