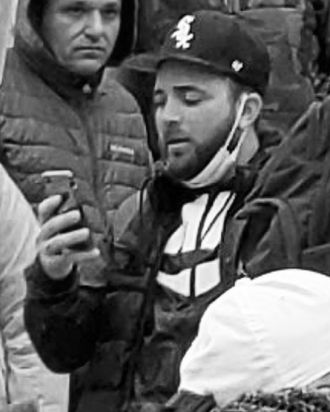 Richard Michetti
Photo: Department of Justice
While partaking in the violent Capitol insurrection, one guy apparently decided to take a break from rioting to taunt his ex, calling her a "moron" over text. Anyway, it did not work out well for this man, Richard Michetti of Ridley Park, Pennsylvania. The day after the riot, his ex went to the FBI with bountiful evidence that Michetti was among the violent mob who stormed the Capitol.
According to the Washington Post, which reviewed court filings made public yesterday, the tense exchange between Michetti and his ex started around 2 p.m., with the former bragging about his resilience in the face of law enforcement. "We stormed the building they held us back with spray and tear gas and paintballs," he texted her, adding that his eyes were burning but that he was confident the mob was going to "stop the vote it's fraud this is our country." Over the next two hours, the Trump supporter sent his ex two videos from inside the building and at some point texted her, "If you can't see the election was stolen you're a moron."
The next day, the woman — who is not named in the court documents — went to the FBI, where she turned over all the texts and photographic evidence he sent her from the U.S. Capitol. She elaborated on their exchange and also helped identify Michetti in footage from Capitol security cameras, which showed him throughout the building. Following her cooperation, the FBI uncovered a receipt from a hotel one block away from the Capitol where Michetti had stayed, checking in the day before the riot and checking out the day of.
Michetti now joins the list of over 250 people who have been charged for their involvement in the riot, alongside an assorted mix of characters: a QAnon "shaman," a Proud Boys organizer, and a high-school therapist. Per the Post, Michetti faces charges of knowingly entering a restricted building, violent entry and disorderly conduct on Capitol grounds, and obstruction of Congress. On Tuesday, he was arraigned in federal court, and now awaits his next court appearance, scheduled for Monday. If convicted, he could spend up to 20 years in prison.
Wonder if the retired Air Force lieutenant colonel, similarly identified to the FBI by an ex, has any thoughts on this.