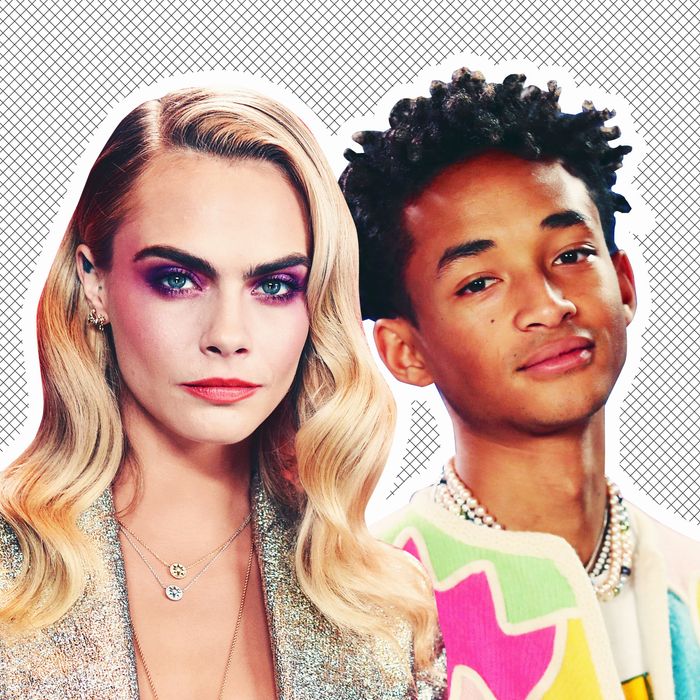 Cara Delevingne and Jaden Smith.
Photo: Getty Images
If you spend Valentine's Day with someone you're not known to be dating, no matter the amount of contradictory evidence — you're in a monogamous relationship with someone else, you go on something as innocent as a walk, etc. — suspicion will inevitably arise. Take, for example, Cara Delevingne, 28, and Jaden Smith, 22. On the evening of the Big Day, British tabloid the Daily Mail spotted the two meeting up at a restaurant in West Hollywood, where Smith greeted Delevingne with a brisk kiss and multiple resplendent bouquets of roses, tightly wrapped together as one. Friends … or more?
While the rendezvous is certainly curious — and has sent some fans into a frenzy — at this time, we don't believe the intimacy that Smith and Delevingne share is romantic. They have been friends for years, and recently co-starred in the movie Life in a Year, which tells the tragic love story between a 17-year-old boy (Smith) and his girlfriend who's dying from cancer (Delevingne) — and which, based on a quick scan on social media, appeared to be a popular movie to watch this past weekend. Also, as we know, Delevingne likes her platonic friendships with a hint of eroticism. Have we not learned any lessons from her relationship with Kaia Gerber, with whom Delevingne has a matching tattoo, and with whom she actually spent February 15th?
Perhaps Delevingne and Smith have exchanged a few flirts here and there, but based on all the available information, we suspect she is a proponent of using Valentine's Day weekend to celebrate all manifestations of love, platonic and otherwise.