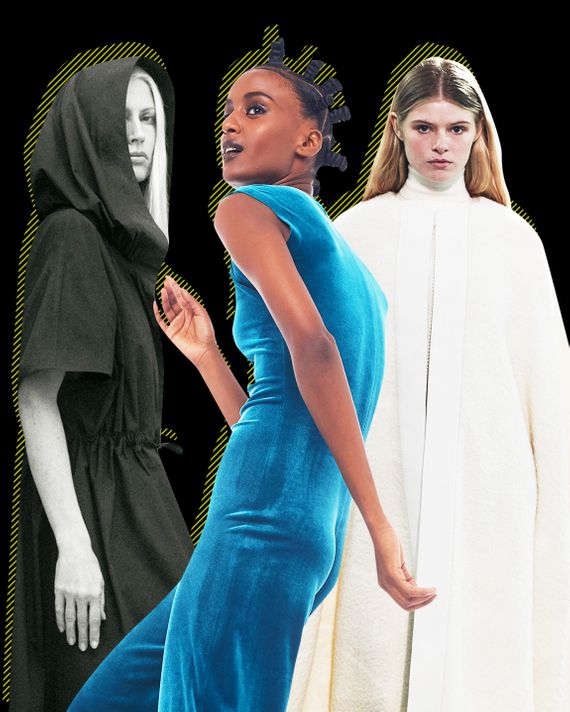 Left to right: Co, Norma Kamali, Gabriela Hearst.
Photo-Illustration: by The Cut; Photos: Courtesy of Co, Norma Kamali, and Greg Kessler for Gabriela Hearst
In late January, Tom Ford, the chair of the Council of Fashion Designers of America, released the American Collections Calendar — an attempt to combat the fragmentation wreaked by the pandemic on the fashion industry. By including Americans showing at various times during the season or in other cities (Rick Owens in Paris, say), the all-in-one schedule is meant to show strength. But like any form of propaganda, it actually does the opposite.
In fact, the most interesting new work by an American designer wasn't on the calendar, nor was it represented at New York Fashion Week. Los Angeles-based artist Sterling Ruby, who worked with Raf Simons at Dior and Calvin Klein before going solo, presented his collection in mid-January, as part of the Paris couture. It mostly flew under the radar, or anyway without patriotic anointing, but it's just as well, considering that the best quality of his line is that it feels free — well-crafted, but not highly produced. I mean, specifically, a couple of dresses in ruched chiffon, one or two chunky hand-knitted items, and some fuzzy-wuzzy coats and wraps that take off on Ruby's well-known soft sculptures. His prints and paint-splattered denim are visually striking, but the chiffon dresses are on an altogether different level.
First of all, Ruby has taken a traditional technique and applied it in a loose yet forthright way, creating a short dress in light brown chiffon with green threads streaming down its ruched front, and a spectacular, Oscar-worthy green gown with ruching in front and ruffles tumbling down the back to the floor. "We were trying to figure out how to take something delicate and make it matter-of-fact," Ruby explained, when I asked him about the dresses. Less obvious, perhaps, is the influence of traditional Mexican costume in the saturated tone and decorative effect of the green dress.
But what really explained the texture and feeling of the dresses is that they retained a hand-made quality. Ruby told me that he had initially tried to do the ruching in New York, but though the results were good, it wasn't the look he was after. Then a couple in Los Angeles, with whom he had contracted sewing, decided to close their shop, and Ruby took the plunge and hired them. It's a risk, of course — S.R. Studio.LA.CA, as his brand is called, is tiny — but it means that Ruby can experiment more freely, and also get exactly what he wants. And what is that? "To make something that feels touched," he said. Then, too, the best modern fashion usually breaks with its own traditions, as these splendidly undercooked pieces do.
The writer Kennedy Fraser once observed that the fashion system occasionally and quite inevitably "prunes" itself of talent and suggested that the process, familiar to gardeners, is a way to encourage new growth and a healthier industry. What has happened to New York Fashion Week in the last year can hardly be called a pruning — it has been more like a hacking. The biggest names on the roster for fall 2021 were Proenza Schouler, Gabriela Hearst, Anna Sui, and Prabal Gurung. Ford was supposed to release his collection, but due to a COVID-related issue, he postponed until this Friday. Other big names, including Marc Jacobs, Ralph Lauren, Oscar de la Renta, and the rising star Christopher John Rogers, may or may not present something later in the spring. Michael Kors, for example, has announced he will stage a 40th anniversary show (virtual, of course) on April 20. Many very good American designers have simply disappeared.
New York's image and talent problems go well beyond COVID and are partly rooted in a decision years ago to involve IMG, the management company, in the shows. Meanwhile, it is business as usual in Milan and Paris and less so in London, where Brexit has created issues of its own. Still, you can be sure those cities will be ready once live shows resume. Many people have predicted that there will be an explosion of style (and much else besides), and a coherent, well-organized, buzzy Fashion Week will be a vital part of that excitement. I have no doubt that the French and the Italians understand that.
But the Americans seem seriously muddled. The irony of the CFDA's American Collections Calendar gambit is that, in the 1950s and '60s, the top tier of the industry — then called Seventh Avenue — made a huge effort to put up a united front against the French, to show their work wasn't inferior. This was when Bill Blass, Oscar, Geoffrey Beene and Halston became known, followed by Donna Karan, Ralph, Calvin Klein, and many more. The calendar idea seems so unimaginatively small, and also, I might add, weirdly imperialistic—to try and claim a designer like Owens, who long ago, and on his own steam, chose to settle in Europe.
All one needs to know about Hearst's collection was that her muse was a nun from the Dark Ages — one Hildegard of Bingen. That was quite a reach in order to come up with a plain, cream-colored cape and some wallflower dresses. Or, better yet, you can look at Maria Grazia Chiuri's sublime haute couture collection for Dior, from January, with its deeply felt view of European history and femininity. Hearst's collection, which included many coats over long knitted things, was one of the stodgiest I can remember in awhile.
Proenza Schouler was very much in the groove of the last two seasons — a long and lean silhouette, energized by well-done knits and this time by the presence of Ella Emhoff, who modeled in the show. "To us, she represents this new chapter in American history," Lazaro Hernandez said during a Zoom call, with his partner Jack McCollough. "Fashion and art in the world. She's representative of that new era."
That sounds like rhetoric. Indeed, the weakness of the vision is that while it includes many fresh looks — the easy trouser suits, a funnel-neck shirt in a matte jersey toile print, a T-shirt-style knit top with yarn fringe spilling from the shoulders — it doesn't take an imaginative leap into the future. It remains fixed in the present, and that's a kind of limbo.
Minimalism is an amazing form, and Stephanie Danan and Justin Kern, the California designers behind Co, remind us of its strength. Every one of their 17 looks, photographed Penn-style in a corner to suggest line and form, was just about perfect—with a relaxed western vibe, too. One of the standout pieces was a short-sleeve dress in crisp dark cotton with a hood and lightly pulled drawstring waist. When I asked Kern about its genesis, he said in an email that he and Danan had planned to visit her father in Casablanca, taking their young son. But Covid nixed that, so the boy's grandfather sent him "a box of djellabas" instead.
A box of djellabas: So much magic is contained in those words. Another look from Co that caught my eye was a sharp pantsuit in a brown Italian wool check, with a matching topcoat. It practically crooned, "Get me out of the house and back to the office."
Christian Cowan and Norma Kamali were already over the rainbow, too. Cowan's collection of spangled separates and sexy keyhole dresses was kind of genius, in part because of the way he photographed it — the models lying on a white bed or a button-tufted sofa, looking up at the camera with expectation of a night out on their faces and in their bodies. It seems a great and silly rift on Instagram posing.
Kamali might be the winner of the New York collections, so far. The designer, now 75, packed it with slinky velvet dresses, amazing jumpsuits and separates in acid-wash denim (who'd a thought?), and a new round of bathing suits. Nothing looked old or ageist or too pop. As always, with Kamali, it was forward, forward, forward.