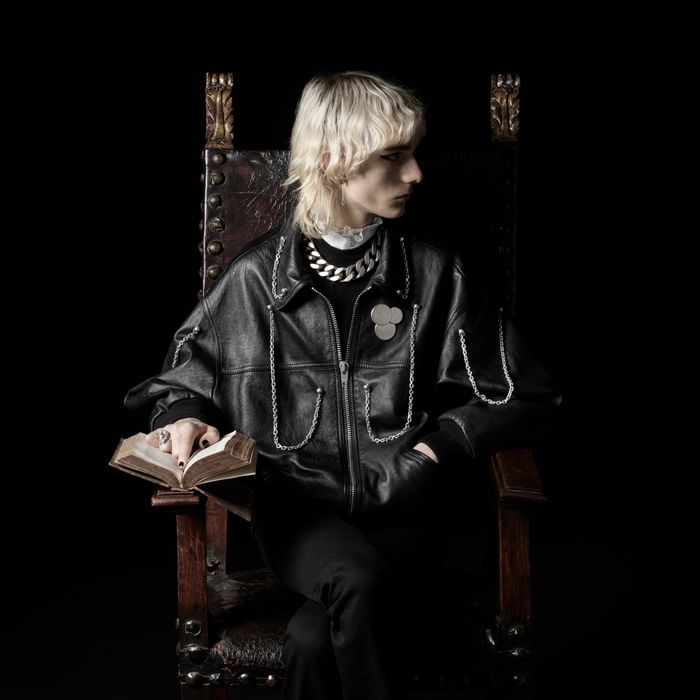 Photo: Courtesy of Celine
Celine virtually presented its fall 2021 menswear collection at the Château de Chambord, a towering castle built in the early 1500s by patron of the arts King Francis I of France, from whom creative director Hedi Slimane took inspiration.
Titled "Teen Knight Poem," the show felt like a modern extension of Game of Thrones, if the world of Game of Thrones was populated entirely (instead of just partly) by moody teen boys. But Slimane was actually inspired by '90s Goths and the French Renaissance. That means the models wore frowns, sunken eyes, embroidered leather and bomber jackets, studs, and studded knights' masks in ribbed wool while parading about the château's battlements. There was even some fuzzy black winter boots appropriate for Jon Snow's journey north of the Wall.
Lately, fashion has been looking back to medieval times in an attempt to say something about the present and even the future — like Balenciaga with its postapocalyptic knights, Chanel with recent cues taken from Diane de Poitiers and Catherine de' Medici, and Dior with its fantastical interpretations. Now, contemporary Goths, the French 16th-century court, and Francis I have been thrown into the mix. "Youth parade and renaissance. 'Nouveau Romantic,'" Slimane said in the show notes. "Living again, in the sense of coming to life, being reborn. Youth reinvents itself in the game and imaginary codes of new identities." Watch the video below.