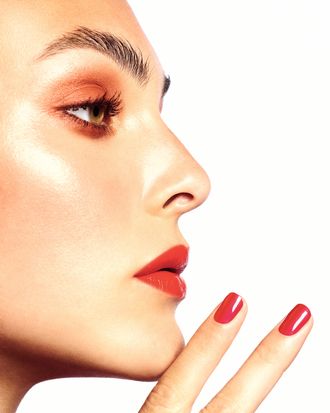 Photo: Courtesy of Chanel
We all know the line about groundbreaking florals for spring. But flowers really are an endless source of inspiration, drawing us in again and again because they're simply too beautiful. Just look a the house of Chanel and its Spring-Summer 2021 Collection.
Created by Lucia Pica, global creative makeup and color director for Chanel, the collection eschews any overly precious petal pinks or long-stemmed red rose shades in favor of more interesting and unusual colors. Les Fleurs de Chanel contains rich anthrium reds and peachy peonies, drawing inspiration from the earthiness of flowers like irises, carnations, and sweet peas.
The collection plays with the juxtaposition between delicate and bold colors, suggesting poppy orange colors for the nails paired with a wash of currant on the lids and raspberry lips. The Cut talked to Chanel Makeup Artist Pati Dubroff to learn about her nude base makeup trick for the color shy, how COVID has changed the way she works, and why she loves one copper-colored mascara.
How has COVID affected the way that you do your work? 
Well, I used to be very much a finger painter. I still do that on myself. Now when I'm working with clients, I am conscious not to use my fingers to blend the lipsticks. I don't use the back of my hand as a palette; I switched over to using stainless and acrylic palettes. I'm also slower. I carry less in my makeup kit; I condense it to the person. I feel like it's made me more streamlined. When everything first happened, it was a feeling of, How are we ever going to be face to face? We won't be able to do our jobs anymore. But now I am more thoughtful and slowing down a little bit so I'm not falling into old ways of doing things.
I wear a mask. I never take it off. We all test before we work. If possible, I look for ventilation near an open door. I use brushes even to apply moisturizer. I used to give a face massage, but now I do it with my tools, not my hands. I also used to go in and touch up things all the time, as a perfectionist thing. Now I let things go and trust it, so I don't get as much into other people's space. Besides that, I am just grateful for every job that comes, after so many months of not being able to work.
How has the pandemic affected the way you see beauty?
I used to wear makeup in my 20s and then stopped. I would never wear it to work. But I started wearing makeup again. I'm enjoying it now. I'm really grateful for it and the boost it gives me.
I enjoy my husband doing a double take, like, Whoa, who are you now? I have been experimenting, and feeling creative, and wanting to try something out. If you're spending a lot of time on Zoom, you notice when someone doesn't have it. They look washed out. Makeup lifts our spirits. Everyone needs a little bit of that.
When you saw the new spring/summer collection, what was your reaction?
This collection is inspired by flowers, and flowers are not just one color. From afar, they look like one color. But up close, there are gradations of tones. All these colors are not intimidating, but approachable. So many people struggle with wanting to wear a red lip and are intimidated by the boldness of a color. These colors are visible, but they have a muted-ness to them that makes them more wearable.
What sets this collection apart from other floral makeup collections is that all these colors have a brown or nude base. This is a technique makeup artists still do. They find an earthier tone, a brown, and use that as a base, and then layer a more vivid shade on top. Here, it's already built in. The browns give it that neutrality, while still letting the color come through.
Tell me more about how you would use the nude base trick on the lips.
For lips, what I like to do is find a color that is more like your natural lip color, or what I would call a nude tone. Use that as a base and go all over the entire lip, which will frame it. Then put the brighter color in the center and blend. It's a great way to wear a bright lip without getting Joker-y. You've probably seen that before, when a red lip is across the entire lip but it doesn't seem like it belongs there. This molds it so the color blooms from the center, very much like a flower.
What is your favorite, most unique product in the collection?
The mascara. It's a beautiful, copper-y tone. It's a beautiful accent — a nice way to give attention to the color of the eye. When eyes are greens or blue or softer browns, copper-y browns are magic. It makes the eye color pop, because it's a burnished brown color that has the slightest hint of metallic. It gives it some warmth, and evades flatness.
Even if I wanted to do more of a lash focus, using that coppery tone on the bottom lashes is a pretty accent. I understand it's a limited edition. Unlike other colored mascaras, it doesn't make the lashes look powdery or like you're coloring in your lashes. Despite not being black, it gives enough dimension.
The newest product is the Rouge Allure Laque. How do you use that?
The one I am loving a lot is the shade Dark Blossom. I love it because the it's the perfect texture to do a base coat, and to do a wash of color. I've been using it as a stain, and then popping on the lipstick as a centerpiece color. It's a pretty way to make the bolder color of the Rouge Allure Velvet lipsticks more wearable. Dark Blossom is a really pretty color and gives an extra bump up of the romantic feeling.
Tell me about what your eyeshadow technique would be with these palettes. How would you use a palette like Warm Memories? 
Experiment and play — don't we have the time to do that now? Generally speaking, my technique 90 percent of the time is to start with a matte shade and then build to a shiny shade. I look at what I want to open up and bring out, what I want to add depth and contour to. These shades all have the slightest amount of metallic. They're not high metals or shimmer. I would use the one which is more matte in the lower left as a base tone. Then I would use the Stylo Contour to frame where I want to give the eye more definition, like in the orbital bone crease.
If you're totally lost, gravitate toward the shade that you think is the prettiest. Start with the shade with the most amount of matte, and begin adding the shimmer. Shimmer works best on the flat area of the eyes, so farther away from the crease and more on the lid. I'm also not a fan of bringing shadow up to the brow bone. The deeper the shade, the closer you want it to be to the lashline, unless you're going for a super smoky look.
Photo: Courtesy of Chanel
Every product is independently selected by our editors. Things you buy through our links may earn us a commission.