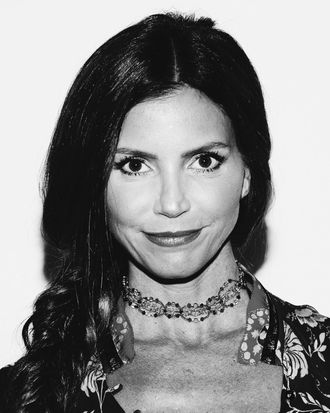 Photo: Michael Kovac/2016 Getty Images
Charisma Carpenter, the actress who played Cordelia Chase on Buffy the Vampire Slayer and Angel for nearly a decade, has finally spoken out against showrunner Joss Whedon. In a lengthy, emotional statement released on Twitter, Carpenter alleged multiple "disturbing incidents" she experienced while working with Whedon over the years, including that he retaliated against her when she became pregnant — a rumor that has swirled around the entertainment industry for years. Whedon "has created hostile and toxic work environments since his early career," she wrote. "For nearly two decades, I have held my tongue."
Carpenter's story is the latest in a recent series of controversies surrounding Whedon's behavior, and how it clashes with his progressive image and reputation for creating empowered female leads. In 2017, Whedon's ex-wife, Kai Cole, wrote an essay for the Wrap revealing the dissonance between Whedon's vocal identification as a feminist and his behavior during their marriage. She said he "used his relationship with me as a shield … so no one would question his relationships with other women or scrutinize his writing as anything other than feminist." Cole's essay followed criticism of an early draft of Whedon's Wonder Woman script that leaked before the release of the film, in which his descriptions of the central character were egregiously horny and superficial — despite referring to himself as a "woke bae" and Wonder Woman's girl-power marketing
Criticism of Whedon became even more public in July of 2019, when actor Ray Fisher, who played Cyborg in Justice League, accused Whedon in a tweet of his own of "gross, abusive, unprofessional, and completely unacceptable" behavior on set. Though Fisher has not fully elaborated on that behavior, WarnerMedia, the company behind Marvel, launched an investigation in response; in December, they announced that "remedial action" had been taken.
For years, rumors circulated that Carpenter's pregnancy caused Whedon to suddenly write her character off Angel, in 2004. Carpenter has given a few interviews in which she said Whedon was "mad," and their relationship had become strained, but never much more than that. In her statement, Carpenter wrote that she had participated in the WarnerMedia investigation because she believed Fisher, and his firing prompted her to finally come forward.
Carpenter alleges that Whedon was "mean and biting," disparaging, and pitted actors against each other, creating an abusive environment on set — but she says his most egregious behavior occurred when she became pregnant in 2003. In addition to telling colleagues a pregnant Carpenter was "fat," she claims that Whedon refused calls from her agents to inform him of her pregnancy. Carpenter says that, in a closed-door meeting, Whedon finally asked if she was "going to keep it," "and proceeded to attack my character, mock my religious beliefs, accuse me of sabotaging the show, and then unceremoniously fired me the following season once I gave birth."
At one point, when she was six months pregnant, Carpenter claims Whedon called her to work at 1 a.m., despite her doctor telling her to shorten her work hours, a move she interpreted as retaliatory. "I felt powerless and alone," Carpenter wrote. "With no other option, I swallowed the mistreatment and carried on."
Carpenter has spent years downplaying what she went through with Whedon. "Only after years of therapy and a wake up call from the Time's Up movement do I understand the complexities of this demoralized thinking," she wrote. Carpenter had — and still has — good reason to be afraid of speaking out, given that Buffy remains a beloved show with a reboot in the works, and that she still attends fan conventions. In response to her statement, Fisher tweeted that he was "forever grateful for her courage and for her lending her voice to the Justice League investigation." Amber Benson, who played Tara on Buffy, wrote in a tweet that "Buffy was a toxic environment and it starts at the top … There was a lot of damage done during that time and many of us are still processing it twenty plus years later."
Whedon has not responded to Carpenter's claims.