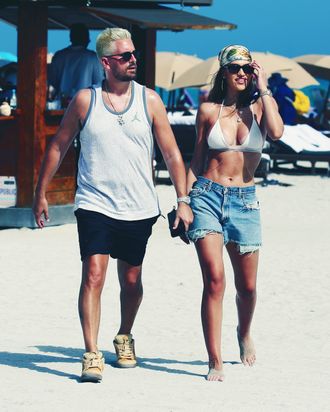 Scott Disick and Amelia Hamlin.
Photo: MEGA/GC Images
It appears that Scott Disick, the 37-year-old father of three and ex-boyfriend of Kourtney Kardashian, is once again dating a teenager.
Roughly six months after ending things with Sofia Richie, 22, Disick was spotted with Amelia Hamlin, 19, the model and daughter of Real Housewives of Beverly Hills star Lisa Rinna and actor Harry Hamlin.
According to Us Weekly, the two were first linked in October of 2020, after they attended Kendall Jenner's Halloween-themed 25th birthday together. They then went Instagram official on Valentine's Day, and this weekend, the two were spotted in Miami with Scott's kids, frolicking on the beach and having dinner at the Sugar Factory together.
Per Us: "The adults enjoyed cocktails including a Strawberry Cadillac Reposado Margarita Goblet and Watermelon Patch Goblet with Pitbull's Voli 305 Vodka as well as nonalcoholic drinks like the Ocean Blue and Fuzzy Peach Penguin Mango." One can assume it was Disick enjoying the various Margarita Goblets, as Hamlin can't legally drink alcohol for another two years.
As with Richie, whom Disick also started dating when she was 19, the rest of the extended Kardashian-Jenner clan are reportedly hopeful that the recent high-school graduate will have a calming, maturing effect on Scott, who is in his late 30s.
"The Kardashian-Jenner family is super supportive of Scott and Amelia's relationship," the insider told Us. "They really like the two of them together and think Amelia is a great influence on Scott. Scott and Amelia are in a really good place. They have a lot of love and respect for each other and it shows."
Well … okay then. Congrats?