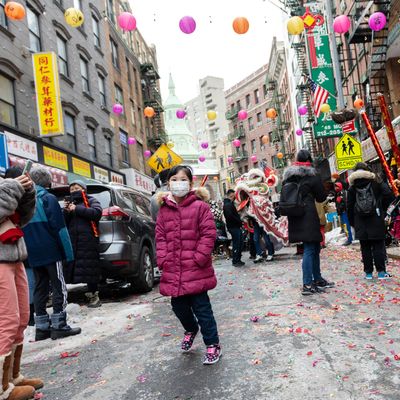 Photo: Alexi Rosenfeld/Getty Images
The Lunar New Year, a holiday observed by people with East and Southeast Asian heritage, is usually a time of joyful celebration. In normal times, Manhattan's Chinatown would be filled with locals and tourists alike partaking in parades and dragon dances, and feasting on noodles and dumplings. But nowadays, Chinatown is struggling, and its old-school charm has become a threat to its survival.
When news of the coronavirus broke, months before it arrived Stateside, the longtime home of Chinese immigrants became increasingly deserted as anti-Asian racism and Sinophobia — fear of or contempt for China, its people, or its culture — grew. Hundreds of family-owned businesses have since closed, and the ones that are left have been forced to evolve traditions in the face of inevitable change.
In a new mini-documentary, Year of the Ox, filmmakers Carin Leong and Jacob Fertig, along with producer Madeline Chen, shine a light on the the next generation of Chinatown. People are using methods like e-commerce and social media to revive the neighborhood and help it enter the modern age. The documentary features iconic Chinatown businesses like Nom Wah, 12 Pell, and Pearl River Mart, as well as the Freemasons Lion Dance troupe and nonprofit organization Welcome to Chinatown.
"Chinatown, with its densely packed elderly and low-income populations, has survived crashes, recessions, depressions, terrorist attacks, hurricanes, floods, and fires. But there was something pointed about the pandemic that targeted this community," Leong told the Cut. "It brought to light the xenophobia in American society and many outdated, unsustainable business practices endemic in the neighborhood. We hope the film paints a nuanced picture of a post-pandemic Chinatown that looks at how the new generation of Asian-Americans are balancing tradition and innovation."
To witness the birth of a new age in Chinatown, watch Year of the Ox below and learn about more ways to donate and help Chinatown here.