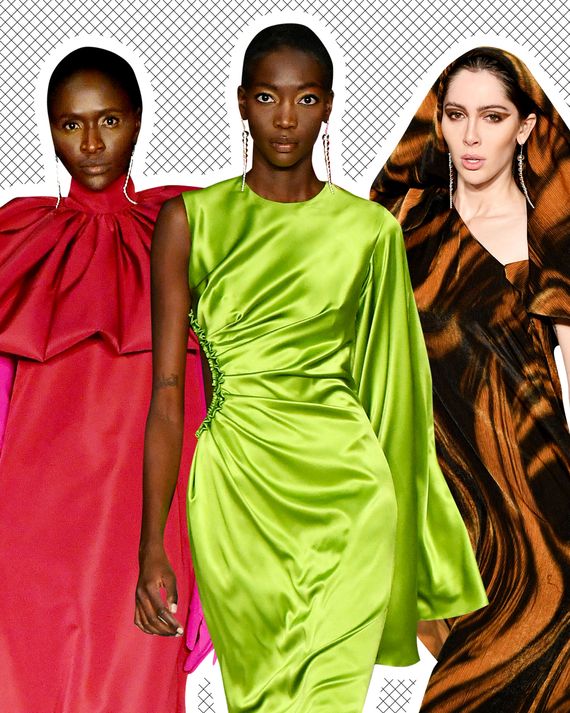 Last September Christian Siriano brought a few dozen editors and fashion people out to his Connecticut home where he debuted his spring 2021 collection. The whole thing felt earnestly inspired, from the luscious red gowns, colored thus for the "really ripe tomatoes" he'd been cooking with over the summer, to the plaid skirts and boater hats. The latter, he wrote in the show notes, came from those childhood films (Clueless, Troop Beverly Hills) he'd been revisiting as he, like many of us in quarantine, backslid into nostalgia.
For his second pandemic show, held in New York's Gotham Hall yesterday with the same editors and fashion people, he admitted off the bat that this collection posed more of a challenge. "It's been difficult to figure out what I wanted to create this season," he wrote in the first line of his show notes, "in a pandemic, it's hard to stay inspired in general, so I decided to dream up another world."
He describes this world as a "psychedelic alternate reality" inspired by a recent trip to Aspen, Colorado. "Not that kind of psychedelics," he assures me in a post-show interview — although that kind of psychedelia is very much a theme in fashion right now — but rather, he envisioned "a weird colony of people that existed in the mountains" who get dressed up everyday and have hidden cocktail parties under the moon.
What would they wear? A "dreamlike" world suggests endless, fantastical, even hallucinatory possibilities. That was not necessarily the snakeskin bodycons, nor their cousins in leopard-printed black velvet. Closer were the tulle gowns, a fabric that the designer seems perpetually able to reinvent. Here they were in poisonous pink and gold, spun across the bodice in amoebic patterns. They followed a series of dresses whose shiny, ruffled skirts and sleeves looked splendidly fungal.
Still, between all of the mesh paneling, metallics, and lace corsets, the effect was less freaky mountain fête than masked ball. What did have a surprisingly hedonistic slant were several thick, cashmere coats, all in delicious cream wool: one with sexy side slits, the other with a long, unwieldy collar, tamed by Coco Rocha. She put it on to open the show after "waking up" in her underwear on one of the four mattresses placed amidst the audience.
Speaking of those mattresses, if the goal was to pull viewers into a dream, the atmosphere of the show was surreal enough to get you there. After so long indoors, being at a social event would have been enough, but add the sepulchral energy of Gotham Hall, flashing lights, and delirious music, and you leave with the feeling of having woken from a trip.
And while the clothes themselves did not entirely convey the promised alternate reality, they meet what the designer himself imagines for post-pandemic style. "It's the more the better; people are so bored of the nothing," he says. And indeed, what the collection lacked in magic it made up for in fun. And in a world that seems to be taking its first tentative steps towards recovery, fun feels like more than enough.