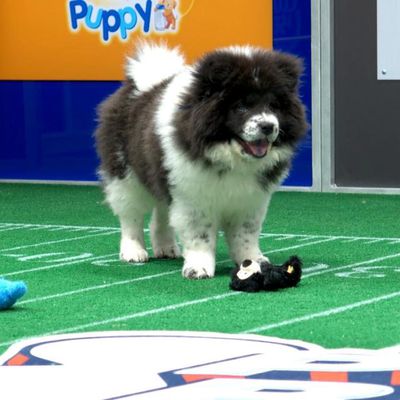 Chunky Monkey
Photo: Discovery+
Somehow, someway, the Super Bowl took place yesterday, and while I did not watch this annual sporting event myself, my Twitter timeline indicates that yesterday's big Bowl prize went to an eminently deserving winner: Chunky Monkey, an extremely fluffy puppy who, at 15 weeks old, only knows naps. Everybody say hello to Chunky Monkey:
According to the Discovery Channel, which sponsors the Puppy Bowl in which Chunky Monkey participated on Sunday, this young lady is an Chow Chow, Irish Red and White Setter mix with a "gentle soul." She came to "Team Fluff" from Green Dogs Unleashed in Virginia, and her mood is reportedly "very zen" — to the degree that she fell asleep shortly after walking onto the field. Apparently this earned her team penalties? Unclear why!
According to Mashable, Chunky Monkey is expected to one day grow to roughly 76 pounds, although according to her new owner — Cassandra Asekhauno, who calls her Ellie — she remains "pretty small under all the fluff." She also (and this is important) has a spotted tongue and freckles on her nose.
What else is there to say about Chunky Monkey? Well, like the rest of her brothers and sisters, her name comes from a Ben & Jerry's ice-cream flavor, and acknowledges the fact that "she looked the chunkiest out of all of her siblings," per Asekhauno. She reportedly draws inspiration in life from "Ruth Bader Gins-bark," which is corny, but we will let it slide. Because, again:
Truly I cannot emphasize this enough:
In the end, Team Fluff lost to Team Ruff, 69-73. But I think it is clear who yesterday's real winner was: Chunky Monkey, who appears to have slept through at least part of the broadcast. (Relatable.) Whatever Tom Brady supposedly won yesterday, give it to Chunky Monkey, please. She deserves all the sports medals.