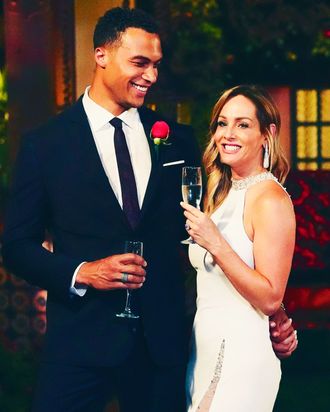 Backslide, baby.
Photo: Craig Sjodin/ABC via Getty Images
I did not watch the last season (or any season) of The Bachelorette; I did not need to when Clare Crawley and Dale Moss's post–La Quinta lifestyle delivered all the drama I needed. The whirlwind engagement and the attendant jilting of like two dozen would-be grooms! The issuing of a "mutual" breakup statement that appears to have utterly blindsided one partner! The allegations of infidelity with sneaky realtors! The fact that Moss used to be a Party City model, a detail that fulfills me all on its own! So on the whole, it saddened me to see their season come to an abrupt end after about two months. Only … is it really over?
Well, one never really knows what goes on inside other people's relationships, but based on recent reports, my guess is: not quite.
On February 16, TMZ published photos of Moss and Crawley hanging out in Nokomis, Florida, where I'm pretty sure neither of them lives. According to the tabloid, they hugged; they arrived at a bar together and left together, and while there were "no reports of hand-holding," there was evidently a lack of pandemic-safe distance between the two, plus a walk along the waterfront. AND THEN, that same day, RealitySteve posted video and photos of the pair continuing to chill, in Venice, Florida, and let me just tell you: There was some documented hand-holding this time around.
This is obviously quite an about-face from January 19, when Moss wrote on Instagram that "Clare and I have decided to go our separate ways," apparently without consulting his then-fiancée beforehand. As rumors began circulating that Moss had been "parading around NYC" with his friend and, some said, possible side piece — New York City real-estate agent Eleonora Srugo, who denied anything romantic — Crawley came out with her own comments on January 21. "I was made aware of a 'mutual' statement at the same time you all were," she wrote on Instagram. "This was not what I expected or hoped for and [I] am still trying to process this."
While she was doing that, Moss followed up with an 11-minute Instagram Live on January 30, in which he insisted that he was "fucking wrecked" and brimming with "emotions" and "so much guilt but also so much confusion, so much hurt." Moss also indicated that mistakes had been made, and perhaps these photos are evidence of an attempt to rectify whatever those were. With a friendly little jaunt to Florida — a state they would appear to be visiting together, or conveniently, at the same time. Your guess is as good (and, quite possibly, the same) as mine!