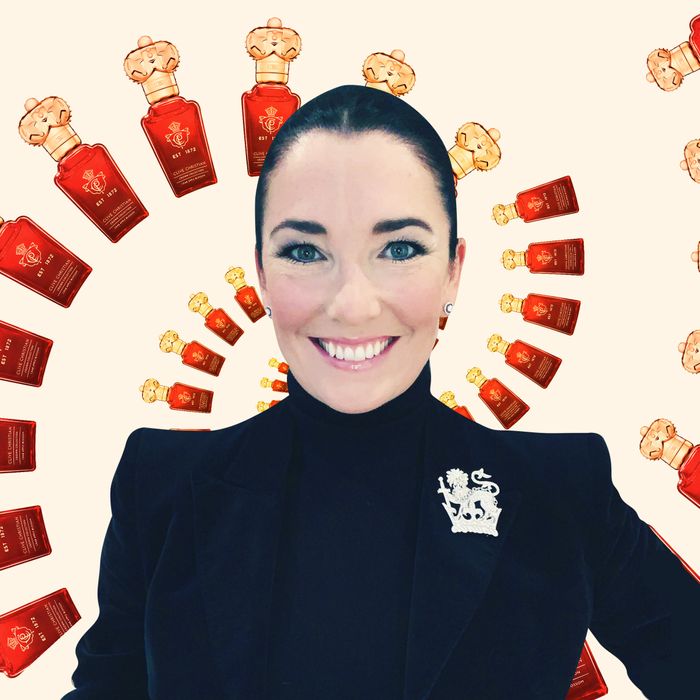 Victoria Christian
Photo: Courtesy of Clive Christian Perfume
Scientific studies confirm that, of all the senses, smell offers the best recall. In "Scent Memories," the Cut asks people about the scents they associate with different times in their lives.
Next up is Victoria Christian, brand ambassador for British luxury perfume house Clive Christian. In 1999, Victoria's father, Clive Christian OBE, revived the 127-year-old Crown Perfumery Company under his name with modern updates on beloved archival perfumes from the Victorian era and beyond. The latest scent to get the Clive Christian refresh is sunny Crab Apple Blossom, which has been updated with marine bergamot, green rhubarb, fresh mojito fusion, and creamy sandalwood for an energizing citrus scent that sets the scene for spring. The Cut caught up with Victoria Christian, who helped launch the brand in the U.S., to talk royals, peanut butter, and the best way to get crispy sheets.
My first scent memory is: The childhood home we grew up in. It was a Victorian manor house that my father, Clive, had set his sights on when he was a young man. He's a designer, and he stretched himself to make a purchase of it in his 20s. There were a few key scents that live on in my life now to this day. There was always a log fire. There was always a Sunday roast in the kitchen. And outside, there was always roses. My mother was very green-fingered, and they were her prized roses, really. It's so difficult to capture that scent: that delicate, juicy, Turkish-delight magic of a fresh rose. That pale-pink beauty with the little drops of dew on it. I can just imagine ducking my face into them as a child. That soft, pillowy scent — it almost tricks you, whether it's there or not. You can't get your nose deep enough into that rose.
I remember being in terrible trouble for pulling all the petals off and emptying one of my mom's special perfume bottles, stuffing the petals in, jamming it down, filling it with a bit of water, and putting it into a drawer in my bedroom, hoping that I would be able to capture that scent. Of course, it's a lot more intricate than just hoping for the best, and, naturally, it smelled quite rancid. In lockdown, I've tried to get a bit green-fingered with my son, but I don't think I possess the innate ability. We managed a sunflower.
Happiness smells like: A few crystallized moments where I think, If I could just Star Trek–beam myself back there ... Like walking along Fifth Avenue when I lived in New York in my 20s, and we launched our perfume at Bergdorf Goodman. That scent of those nuts that are roasting on the trolley. It's so incredibly sweet, and it infiltrates an entire block. It just puts such a spring in my step. I remember, when I first started my perfume training, walking down the hill in Grasse, in the south of France, to do my studies in one of the perfume laboratories. It was May, and they were harvesting the ambrette seed, and, again, it just permeated the air with this gentle, spicy-sweet scent. And when my husband and I took our honeymoon in Tokyo: After the 3 a.m. wake-up call to visit the Tsukiji fish market, which is just an explosion of life, the smell of lowering your head into a massive bowl of dashi, miso, and udon noodles at 5 a.m. It's like a smoky, hot, steaming dream. You're tired and jet-lagged and comforted, and it's like your whole body is awake. It's absolutely incredible.
Love smells like: I think it's got to be … my husband's neck [laughs]. We got married in Rome, at the Piazza del Popolo, and it was quite frankly one of the hottest days known to man. We ran around the side of the church so that our friends and family could spill out onto the steps as we made our exit, and we were squirreled away into a little side door, past dusty statues, into a cool, dark room. Someone had said to me, "Make sure you snag a moment when it's just you and your husband," and we had this moment of coolness; we had just been married, we were exhilarated, and we just had a hug, and every time we hug, my head just kind of reaches his neck, and I'm taken back to that little moment.
We were wearing the No. 1 matched perfume pair on my wedding day, and it had a very special significance given the heritage of the perfumery and how Queen Victoria and her beloved Prince Albert wore matched perfumes and, of course, enjoyed a legendary love. I had always imagined wearing these perfumes on the day I married my true love, and it felt like a golden thread through the ages to wear the perfumes that wear her crown to this day.
Heartbreak or loss smells like: My mother's mother was kind of a kindred spirit. She passed away when she was 70, and I can remember smelling her clothes. It's really sad, isn't it? You just get a little sliver, a little waft of a person, and it fills you up, but it's tinged with so much sadness.
In terms of loss, losing your sense of smell is beyond. I know that a lot of people have lost their sense of smell from the coronavirus, and I'm very fortunate and thankful that that's the worst side effect I've experienced with it. But to spray a bottle of perfume onto my skin, after reveling in all these beautiful bottles for 20 years, and to feel … nothing? That is a huge loss. It's just a void of emptiness. My mother sent me these flowers, and to dive my head into these beautiful irises and roses and … nothing. To make your coffee in the morning — nothing. I actually read up on it, and, apparently, should anyone else be in the same boat, you should diligently smell eucalyptus, rose, clove, and coffee. Those apparently reawaken the four corners of your scent register.
Friendship smells like: A cappuccino, preferably and ideally made by somebody else in a fantastic Italian coffee shop, where you can hear things being frothed. It arrives, somebody's done some delightful artwork in some chocolate sprinkles on the top, and you're free to chat and enjoy it. It's hot and you hope that it lasts a long time so your chat can go on and on. I miss those moments.
The worst smell is: No offense to all Americans, but peanut butter? What's the deal with peanut butter? To me, it just smells flat. It almost sucks my being into the jar. When I was growing up, all I wanted to do was move to America and experience everything American. You know, peanut butter, cheerleaders, prom — all of these things. I tried. I can't tell you how many times I've tried to like peanut butter, but I can't get past the smell.
My ideal vacation smells like: By day, the hotness of a clean towel on your lounger, when the sun has been warming it all lovely there. It's all clean, hot, crisp, lovely. And by evening, anywhere where they have the night-blooming flowers, and you walk past and have that intense jasmine or orange blossom in the air. Marrakech? That would be delightful. Or Miami. The smell of a fantastic Salt Air Margarita on South Beach in that steamy, sticky heat. What's going to happen to us all when we're all back in the swing of things? We're all going to be like Charlie and the Chocolate Factory. A temporary madness.
My home smells like: Clive Christian perfumes. There isn't a day that goes by that I don't have at least two perfumes on. I always spritz the beds in the morning — usually with 1872 Feminine, because that's so delightful, but lately I've been doing Crab Apple Blossom, our newest. It smells like a ray of sunshine, which we have none of at the moment in England. That's a spring in your step — in a bottle. I always spray the sheets, so by the time you come to bed at night, it adds a little crispiness to your experience.
The first thing I smell in the morning: The very day itself. We have a little Jack Russell, Maximus, and I always let him out first thing. My son is always awake too, so we go out together and just do a couple of deep breaths to breathe in what the day has in store. Just to help him know that that's something that he should be doing and appreciating. The day doesn't start with the Teletubbies or whatever is on the television; the day starts with the day.
The last thing I smell before I go to bed: My family's heads [laughs]. My son's head, because I have to steal a little snuggle, and his head usually smells like lavender and cleanliness. Just his little head, sleeping — it really is when they are the most delightful … And then my dog's head. I guess that's an acquired taste, but he smells so sweet to me.
A scent or smell I love that others usually don't: Petrol. Gas. I know, it's naughty — it's the forbidden fruit — but I always allow everything in moderation. I always allow one little waft of that petrol. We have a collection called the Addictive Arts, and that's based on the … naughty side of life, I suppose. The after-dark face of Clive Christian. We've got all of the lovely upstanding perfumes inspired by great moments in British history and architecture and culture and then we have ones for when the lights go down: aroma fusions of cacao, things with hallucinogenic properties. I don't think we've used petrol, but it's such an addictive, naughty scent, like tobacco — things that catch you that really shouldn't.
I smell like: More often than not, I'm reaching for Magnolia, which is from our Noble collection. All of our perfumes have incredible complexities — a minimum of 150 different ingredients and some up to almost 300 in a single drop. Magnolia has 223 different ingredients inside, with a 25 percent concentration, so it sits really close. It's inspired by the rococo era; think Marie Antoinette, Duchess of Devonshire … it's lavishly and fantastically frivolous. It's got black currant, cassis, and magnolia at the heart, which is a really delicate scent in actuality. The plant has a thick, almost crunchy, swanlike bloom that comes out of the tree, and it really only blooms in the spring, but you can't really smell it; it needs to go through its extraction process. It's quite heady and was used in secret rituals in India for its aphrodisiac properties. Funnily enough, as I look through the perfumes that I do use on a daily basis, they usually have aphrodisiac properties.
But my go-to of all time has to be X Feminine. That has Egyptian jasmine at heart; that's a knockout. Good enough for Cleopatra. She knew what she was doing when it came to Mother Nature; she didn't spare her Egyptian jasmine. It was sewn into the sails of her ship for her journey to meet Mark Antony, and they say he fell in love with her on the wind as she sailed toward him.