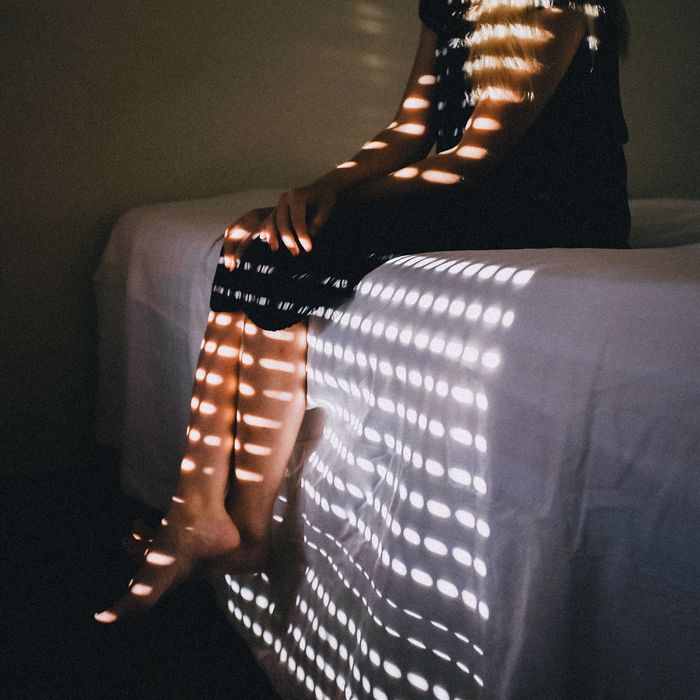 Photo: Getty Images/EyeEm
When I called Maya Raghu to ask about the challenges of prosecuting domestic abuse cases, she told me a memorable story a survivor once shared with her. One way the woman's abuser would intimidate her was by leaving flowers and gifts on her car while she was at work. Her co-workers thought it was sweet and thoughtful, but to her the items represented an implicit threat, Raghu, senior counsel at the National Women's Law Center, said. The flowers told her that her abuser could drop in and check up on her at any time; that she could never be independent from them, even when she was at work.
But when she decided to go to the police about these behaviors, it was difficult to get authorities to see them the way she did. They too seemed to perceive the flowers and gifts as loving gestures, rather than something that could be part of a pattern of abuse. "It's really difficult to hold abusers and perpetrators accountable for these kinds of behaviors," Raghu said.
This sort of nebulous, controlling behavior remains largely undefined by the criminal-justice system, but advocates know it as "coercive control," a form of abuse that seeks to strip victims of their autonomy and personhood. It can include behaviors like intimidation, surveillance, and isolation, which can be easily disguised from outside observers. The victim knows how it's intended, as does the abuser, but from the perspective of those around them, including law enforcement, a rose appears to be just a rose. The concept is beginning to gain more widespread awareness; the New York Times recently ran a feature about Congresswoman Cori Bush and singer FKA twigs, who have both spoken publicly about their experiences being controlled by their abusers. And some states have begun to recognize it in within their legal systems: Last year, both California and Hawaii passed anti–coercive control legislation: California's law allows behaviors that constitute coercive control to be submitted as evidence in family courts, while Hawaii's amends the state's domestic violence statutes to account for it. Similar legislation that has been introduced in New York would classify coercive control as a felony punishable by up to four years in jail.
The criminal-justice system does little to protect survivors with laws that already exist; abusers are rarely convicted, and the lengthy legal processes survivors have to go through can be traumatizing in addition to fruitless. While on paper, coercive control laws may sound like a remedy to some of the gaps in the system, in effect they may only widen them, harming survivors and their communities in the process.
"It makes sense that there's this attempt to capture a broader conceptualization of violence in the legal framework," said Audacia Ray, the director of community organizing and public advocacy at the New York City Anti-Violence Project, which primarily serves the LGBTQ community. "However, we really believe that expansion — because it just expands criminalization — will just bring more harm."
When people call AVP's hotline, they're usually looking for support that doesn't involve the police. (This is especially true of undocumented people and people of color, many of whom have learned from experience that the police aren't there to help them.) In some cases, Ray said, survivors call the hotline seeking counsel for trauma they experienced when law enforcement did get involved, rather than counsel for the abuse itself.
New York is a mandatory arrest state, which means that when police arrive at the scene of a reported domestic violence incident, at least one person involved leaves in handcuffs. And it is not always the case that it's the abuser. Police can make mistaken judgments about who the victim and perpetrator are in cases of intimate partner violence based on racial or gender biases. Or they may find a scene where both parties appear to be hostile toward one another, and arrest both the victim and their abuser.
These police assessments can be even more flawed when it comes to cases involving coercive control, which can sometimes appear ambiguous to an outside observer. In Australia, Tasmania has criminalized coercive control since 2004, and Queensland has included it as part of its definition of domestic violence since 2012. But research shows that coercive control cases are rare, even in civil courts, where it can be much easier to prove them. And when such laws are invoked, they can end up targeting the victims of domestic abuse, not the perpetrators. Abusers may manipulate the law to point to a victim's response to abuse — which may include yelling, name-calling, mean text messages — and convince authorities that they're the one who is being emotionally abused or controlled.
"Legislation in Australia has long included nonphysical forms of abuse, but it's still the case that it's rare for legal action to be taken when there aren't physical forms of abuse as well," said Heather Nancarrow, the CEO of Australia's National Research Organisation for Women's Safety, a government-backed nonprofit that conducts research in the commonwealth's states and territories. "And there have been problems with the implementation of those laws which has resulted in criminalizing women, and particularly First Nations women."
First Nations women are more likely to be wrongly criminalized for domestic abuse in general, Nancarrow said. According to research she cited in a 2020 report, nearly all Aboriginal people who had been killed by their abusers between 2011 and 2016 had been previously identified as both the perpetrator and victim of abuse.
England and Wales have both seen similar results from their coercive control laws, which have been in effect since 2015; both make coercive control punishable by up to five years in jail. Between 2016 and 2018, however, the overwhelming majority of such cases were dropped. "I felt incredibly let down by the police," one survivor told the Centre for Women's Justice, which has issued complaints to the U.K.'s police inspectorate two years in a row, accusing officers of failing victims. "I felt that I was being made a victim a second time."
And though Scotland is considered the "gold standard" for its implementation of anti–coercive control legislation, Nancarrow said its success largely has to do with the design of its entire legal system — part of which is set up to connect victims to social services and economic resources — and not every country's legal system is set up that way. Effectively implementing the law in Scotland also requires authorities to receive extensive training to ensure that they understand the nuances of nonphysical violence.
Some survivor advocates argue that all of the resources required to make coercive control laws work would be better spent elsewhere, on more holistic services that have a better track record of actually preventing intimate partner violence. "Considering the amount of money that has to be spent prosecuting new crimes, we really believe it's much better to shift those resources toward preventative measures — housing, health care, education — in order to keep people safely housed and fed," Ray said. "That's more effective in the long term than prosecuting violence in the short term." Others have found some measure of success using a restorative justice model, which seeks to abandon the criminal-justice system completely when it comes to addressing intimate partner violence. A 2019 study found that combining state-mandated batterer intervention programs with restorative justice practices — in this instance, circles of peace, which facilitate dialogues between abusers and their partners or family members — decreased the likelihood of new arrests over a two-year period.
"Focusing all our efforts on legal definitions and law enforcement is an incomplete solution," said Linda Mills, a professor of social work at New York University and one of the authors of the study. "What is consistently missing from the conversation about domestic violence is how to address the problem at its root. What treatment might help to address the causes of domestic violence, which is most often exposure to abuse in one's family? Let's invest in helping people, not locking them away."
But the impulse to seek punitive legal remedies to curb abuse — rather than empathetic social ones, such as those included within the restorative justice framework — can be a strong one among those who hear stories like Bush's or fka Twigs's. Their allies often feel that something needs to be done quickly, and introducing or lobbying for new legislation can provide people with the satisfaction of taking what seems to be the first step toward tackling the problem. Unfortunately, it's rarely the thing that survivors need the most.
"Dealing with abuse and violence in the intimate partner context is so complex and nuanced that that process of transformation and healing can feel very unsatisfying to people external to the situation because it takes a long time," Ray said. "People get this 'someone has to do something' feeling."
"But there isn't any thought about the long-term impacts that could have; it's just about the immediate attempt at a remedy and an answer," she continued. "And the answers are not simple."