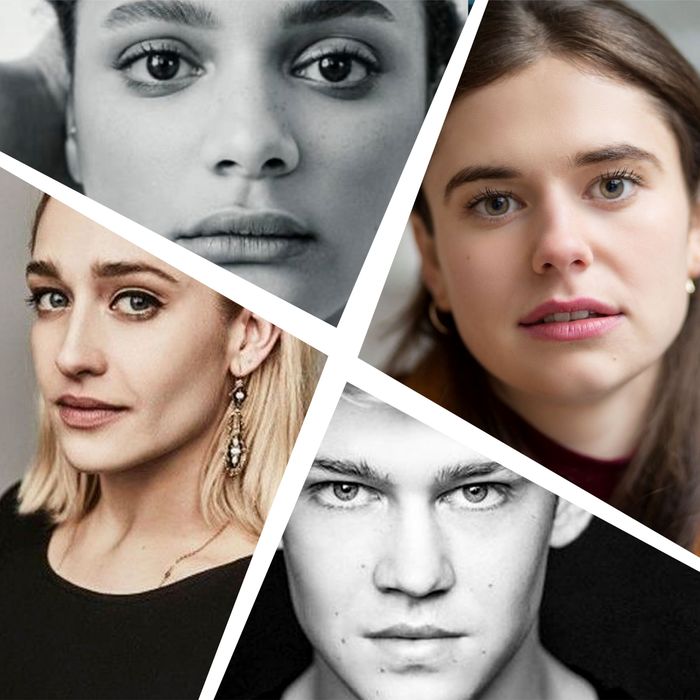 Your
Friends
.
Photo: Hulu
It has been nearly a year since Hulu and the BBC dropped their very sexy TV interpretation of Sally Rooney's 2019 novel, Normal People. Despite allegedly being Normal, the People involved were hot — some may say abnormally hot — and unabashedly horny, in addition to being talented: a recipe for streaming success. No surprise, then, that Hulu quickly announced it would also adapt Rooney's debut novel, Conversations With Friends, into the same format. Since then, burning questions! Would they bring back the same intimacy coordinator to choreograph the sex scenes? (Please, we hope!) What subtle yet sexually devastating accessory, if any, might the costumers give Nick to help endear him to the audience?? Also! The people, would they be comparably hot??? Who would play the conversant friends, who would play their lovers????
We do not have answers to all of these questions at this time, but we do finally have some insights into the cast. Behold:
• Alison Oliver, a newcomer from Dublin's Lir Academy (which Paul Mescal, i.e., Connell from Normal People, also attended), will play Frances, a 21-year-old poet, student, and the series lead.
• Sasha Lane, of American Honey and The Miseducation of Cameron Post, will play Bobbi, Frances's aggressively charismatic best friend (and ex).
• Jemima Kirke, of Girls fame, will play Melissa, a photographer in the book and an "older writer" (read: mid-30s) in the series, who befriends Bobbi and Frances, and is married to …
• Joe Alwyn, of The Favourite and Mary Queen of Scots, will play Nick, a 32-year-old actor, husband to Melissa, and eventual part-time partner to Frances.
• Lenny Abrahamson, who directed Normal People, will direct, alongside Leanne Welham, with Alice Birch returning as lead writer.
There you have it: Your Conversations With Friends mains. Some surprising choices in here, I think: Per the source material, Nick is large-faced and "very tall" — almost imposing, like he "could comfortably pick Melissa up under one arm and fend off interlopers with the other" — whereas Alwyn is smooth-faced and boyish, if also described by Wikipedia as being six-foot-one. Per … life, Jemima Kirke's accent is inscrutable, but maybe she does a convincing brogue. We will have to wait until 2022 to find out. Until then, there's always the Normal People horny cut.