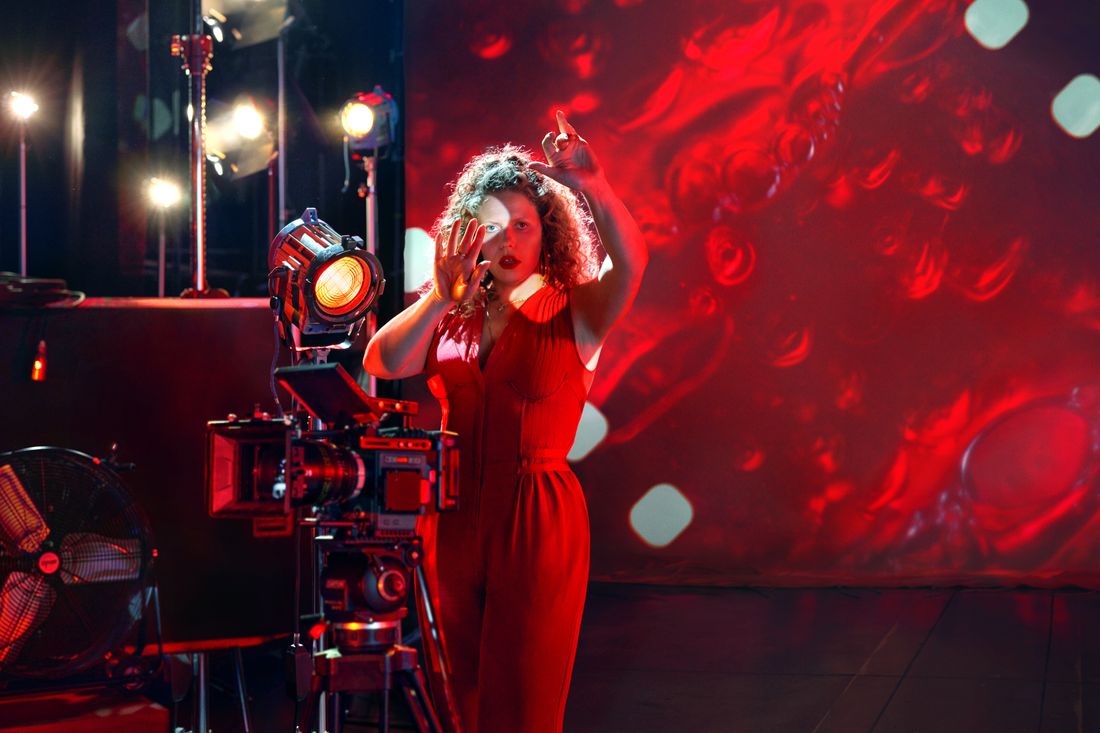 Photo: Courtesy of Campari
For filmmaker Margot Bowman, community is an everyday pursuit. When she directs, she aims not to be a remote presence behind the lens, but an active participant in the room — moving, feeling, and relating with the performers. One senses that for Bowman, filmmaking is a sort of alchemy — the art of creating an emotion and capturing it for all to share.
It's an approach that's made the London born-and-raised filmmaker the ideal choice to direct a series of spots for Campari's Red Passion campaign that highlights cross-industry creatives. The ruby-hued one featuring MJ Harper — the Alvin Ailey-trained dancer and choreographer who's also muse to designer Grace Wales Bonner — is especially hypnotic. Watching it, you feel the joy of movement and the energy of two intensely original minds.
In partnership with Campari, we spoke with Bowman about her approach to directing, how she sharpens her creative instincts, and how this year of change has broadened her lens and brought her new inspiration.
When did you know directing was your passion?
I used to have a club night and we would throw a party every two weeks. I always loved bringing everybody together – that incredible feeling of everyone sharing a moment. Filmmaking is similar, the feeling of a team coming together to make an experience. That's what motivates me. I'm obsessed with that moment when everyone feels the same thing, when you've created a space where everyone can explore an idea.
How would you describe your approach to creativity in general? 
Instinct and dedication are my main creative tools. I'm constantly thinking about how I can bring the experience of creating closer to that of a great party, because when we come together in true collaboration, there's no place for ego — the sum is always greater than its parts.
How did you approach your collaboration with MJ Harper on the Campari Red Passion spot?
Working with MJ Harper was such a beautiful experience. He's amazing, we created great energy together. I try to create a shared sense of vulnerability with artists. We expect our cast and artists to share so much of themselves in a really public setting, so I try to meet them halfway. I'll put on 'Good Life' by Inner City and dance with them on set to warm up and break down the sense of pretense. Or I'll share something personal about where I'm at emotionally that day. We have to create a space that feels safe for creativity to flourish and a shared sense of trust is an integral part of doing this.
How has this year of upheaval changed your relationship to filmmaking?
It's made me hyper-aware of the power of storytelling — how it can shift the status quo and define which people, ideas, and norms we embrace. I take this sense of responsibility really seriously and am inspired every day by the sense of human potential creativity can tap into.
Also during lockdown, I started keeping a journal for the first time. I felt that the world was going to be changing so fast over this period, and I couldn't be on autopilot. It's so important for me to know how I'm feeling and what my inner voice is saying to me. After five months of journaling every day, I am more connected to my instincts and emotions. It's helped me make sense of how I feel. I would recommend for everybody to do it.
What's your advice to people looking for inspiration right now? 
It's so important that everybody takes time to connect with their purpose, and figure out how you are serving other people through your work. It can be artistic, or if you're cooking for your parents or organizing your apartment, that's creative too. These small acts are choices for us to express ourselves. I think that what we do as artists is we build alternative worlds — shape a reality through our actions. It's really important to take that practice and embed it in everything we're doing.
How would you like to continue to evolve yourself and your passions in the year to come?
I want to stay in touch with the values that motivate me, make work that connects us to each other, and work at a bigger scale with more resources where storytelling becomes a tool for empathy.
What three words would you use to define your Red Passion?
Devotional, intense, playful.
Enjoy Campari Responsibly
This advertising content was produced in collaboration between Vox Creative and our sponsor, without involvement from Vox Media editorial staff.