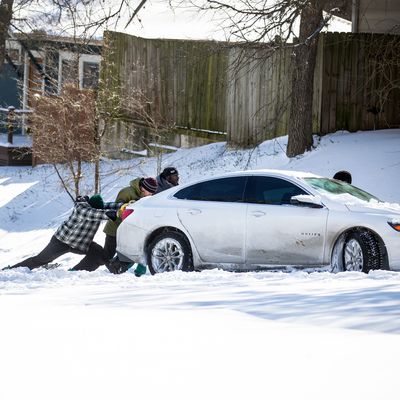 Photo: Montinique Monroe/Getty Images
Extreme weather events are becoming the new, terrifying normal under climate change, and what's currently happening in Texas and elsewhere across the United States is no exception.
A massive, deadly winter storm has left millions of people in places like Houston and Austin without power in freezing temperatures; at least 5 million people are suffering power outages in several states. A tornado in North Carolina has killed three people. At least 20 have died in total across the country since the storm began, including in traffic accidents on dangerous roads and in fires related to loss of power. To make matters worse — and even more dystopian — the severe weather is impacting coronavirus vaccine delivery.
The storm began over the weekend, as a high-pressure system moved down from the Arctic Circle and collided with warmer, wetter air in the South and Southeast. The region was just recovering from a previous set of winter storms last week that brought icy, deadly conditions to places where people are not used to them, like Kentucky and Louisiana. Beginning Saturday, record low temperatures, snowfall, and ice occurred from coast to coast. At least 150 million Americans were under winter weather or ice advisories by Monday, according to the National Weather Service. Experts aren't exactly sure whether the storm triggered the sudden, deadly tornado that hit North Carolina's Brunswick County on Monday night.
Texas has been hit especially hard — 4.1 million people are still without power in the state alone, and Joe Biden has declared a national state of emergency in response. Residents reported trying to hunker down in their homes in below-freezing temperatures overnight, as the wholesale price of electricity surged by more than 10,000 percent. The entire city of Abilene shut off water to its residents because of weather concerns. In Houston, where record-setting evictions have increased the city's homeless population, officials were scrambling to get unhoused people into shelters. Two people died from carbon-monoxide poisoning after trying to use a car to generate heat.
Judah Cohen, the director of seasonal forecasting at a company called Atmospheric and Environmental Research, told the New York Times that the storm "could be one of the most costly natural disasters of the year." "Texas, which is known for hurricanes, is not known for snow and cold damage," he said, and "it's not in spite of climate change, but related to climate change."