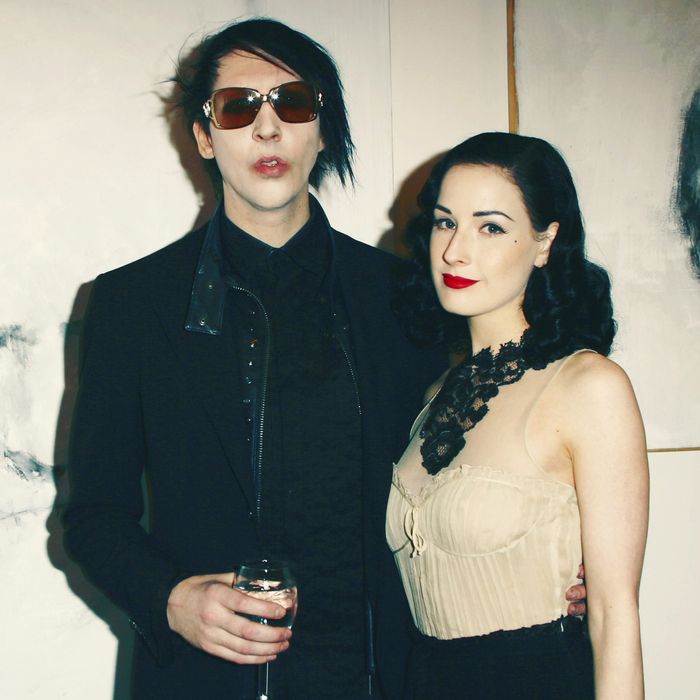 Marilyn Manson and Dita Von Teese.
Photo: J. Vespa/WireImage
Another one of Marilyn Manson's exes has responded to the abuse allegations against him by actress Evan Rachel Wood and at least four other women. Now the burlesque personality Dita Von Teese, who married Manson in 2005 and then filed for divorce a year later, has come forward.
On Wednesday, in a statement posted to Instagram, Von Teese wrote that she has been "processing the news that broke" about Manson, and went on to thank "those who have expressed your concerns of my well-being." She continued: "Please know that the details made public do not match my personal experience during our 7 years together as a couple. Had they, I would not have married him." Von Teese added that she left Manson "due to infidelity and drug abuse." While she stopped short of saying explicitly that she believes Wood and Manson's other accusers, she wrote, "Abuse of any kind has no place in any relationship. I urge those of you who have incurred abuse to take steps to heal and the strength to fully realize yourself."
One of Manson's other exes, Rose McGowan, who was briefly engaged to the artist before Von Teese, said in her own statement earlier this week that her relationship with Manson was also "not like that." Still, McGowan emphasized, "That has no bearing on whether he was like that with others before or after," and that she stands with all the "brave women who have come forward."
Since Monday, five women have leveled abuse allegations against Manson. The first to come forward was Wood, who claims that Manson "started grooming me when I was a teenager" and "horrifically abused me for years." (Wood and Manson met in 2005, when the former was 18, got engaged in 2010, and then split the following year.) While this was the first time Wood named Manson as her alleged abuser, it's not the first she's spoken of experiencing sexual violence: In 2018, to advocate for a bill that would protect sexual-assault survivors, Wood testified that one of her former partners would "[bind] me up by my hands and feet to be mentally and physically tortured until my abuser felt I had 'proven my love for them.'" At the time, many suspected that the unnamed perpetrator was Manson.
Following Wood's statement, four other women came forward with similarly horrifying stories, characterizing Manson as a manipulative partner who subjected them to sexual, emotional, and psychological abusive. "I have night terrors, PTSD, anxiety, and mostly crippling OCD," the actress Ashley Lindsay Morgan wrote on Instagram. "I try to wash constantly to get him out or off of me. I am coming forward so he will finally stop."
While Manson has denied the allegations, calling them "horrible distortions of reality" and further claiming, "My intimate relationships have always been entirely consensual with likeminded partners," he has since been dropped by his talent agency and record label.