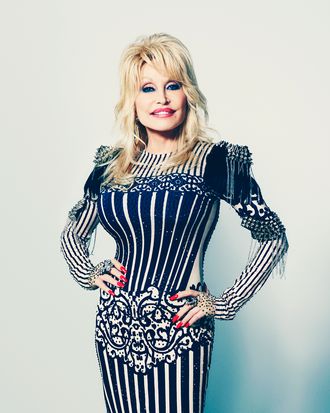 Dolly Parton.
Photo: Mark Seliger/ABC via Getty Images
Here's another reason to tune in to the Weeknd's concert this Sunday: Dolly Parton's first-ever fragrance will be making its television debut after the Super Bowl halftime performance.
During the game, the national treasure and coronavirus research funder's new perfume, Dolly — Scent From Above, will make a cameo in a Squarespace commercial soundtracked by Parton herself. Immediately after, $10 samples of the fragrance will be available to the public at DollyFragrance.com. Should you enjoy what you sniff, that $10 can be credited toward the purchase of the full-size scent once it becomes available in July.
As WWD reported back in December, Parton's perfume is a collaboration with Edge Beauty, the same people who gave us musically inclined scents from Cher and Renée Fleming. Various fragrance formats are in the works to allow customers "to scent hair, clothes, and homes, as well as their own skin" with eau de Dolly, but Parton is kicking things off with a traditional spritz bottle that bears Dolly's signature, a tasteful butterfly tattoo, and a statement butterfly cap.
We still don't know what the perfume smells like in terms of its specific notes, but one can only hope it truly smells like Parton herself. Because of the singer's secret concoction of multiple layered scents, Brooke Shields says Parton smells "incredible" and "mouthwatering," Dylan McDermott says she smells so great we couldn't believe it if we tried, and Dolly herself says she smells so darn good that people follow her and her waft down the street.