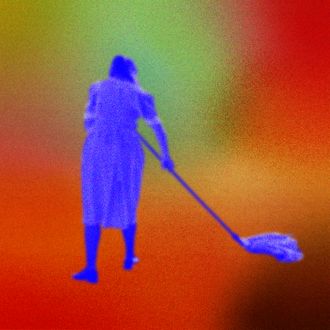 Photo-Illustration: by The Cut; Photos Getty Images
Often unseen, underpaid, and undervalued, domestic workers — who are usually women of color — rely on ethical bosses and the vestiges of the American welfare state to insulate them from utter catastrophe. Nearly a year into the pandemic, that insulation is wearing thin. In October 2020, the National Domestic Workers Alliance polled its Spanish-speaking membership and found that a stunning 90 percent had lost jobs by late March. By mid-September, more than seven of ten respondents said they were working fewer jobs than they had been before the pandemic. Hours are down, wages are lower, and right now, there's little relief in sight.
Some domestic workers — like Sandra, Pamela, and Josie — belong to organizing networks aimed at helping those who cook, clean, and nanny for legions of households. All three belong to the Carroll Gardens Association, which organizes tenants and care workers in southwest Brooklyn; Sandra is also an activist with the National Domestic Workers Alliance. The Cut spoke to them about their bosses, their financial struggles, and the importance of their work.
Josie, 37, Brooklyn
I was a nanny for 15 years. I was undocumented at first, and it's kind of the easiest work to get when you're undocumented. Parents, for the most part, they only want to pay cash. They don't want to pay nanny tax. So it worked for me. I got my citizenship two years ago. By the time COVID hit, I had been working with a little girl for just over a year. The parents still wanted me to come into work. I told them I couldn't, and they told me if I don't come in, they won't pay me.
Come to find out the building they live in has a lot of elderly people. The Homeowners Association had decided that they did not want anyone in the building who didn't belong there, except for home health aides. One of the nannies who worked in the same building told me that her family was paying her to stay home because of the building's decision. The building posted that notice on Sunday. My client called me on Monday, trying to make me feel bad about not coming in.
They have a house in Long Island, and they own the apartment in Brooklyn. So they can go back and forth as they please, and they left for Long Island. Of the other nannies in my nanny group, I was the only one who wasn't being paid. So it's just me that's the schmuck? And they have good jobs. It's not like they're hurting for money. They sent me a picture of the little girl over the summer. And they said, "Oh, we hope you're well. We're still in Long Island."
Luckily I had savings that covered me up until the end of August. Besides the rent, the next big thing is food. It went from me spending $120 a week on groceries to spending $50 a week on groceries. I bought a lot of bread, a lot of pasta, because it's cheap. Pasta with butter, pasta with pesto, pasta with red sauce, pasta with ketchup, pasta with sliced cheese melted on top. Bread and butter, peanut butter and jelly, bread and tuna, bread and beans. Sometimes I would make pasta, and I would section it off. I would take out half, and give it to my two boys, and give the other half to them the next day. Because my boys need to eat. I would scream and cry into my pillow at night because I didn't want them to see me like that.
Now I'm trying to finish up my bachelor's degree. I'll be finished in August. I'll have my B.S. in human resource management and business management. I also worked for UPS from October until the first week in January, and that money helped tremendously. So I have some more savings. I'm back looking for work. I actually got a call today to work in vaccine intake, and it'll probably run until July. But I don't want to do any nannying anymore because of that family. It just really turned me off.
Janice*, 53, Queens, cleaner and nanny
Before the pandemic, I used to go in the mornings to do some housekeeping work in the city with elderly people, and in the afternoons I'm a nanny in Brooklyn. When the pandemic came, I couldn't go to the elderly people because they were high risk. So I had to stop working for them. Then I increased my hours as a babysitter because the mom just got a full time job, and she needed to have somebody in the house with the kids. She's a single mom.
But I was working only four days a week, when I used to work every day except Sunday. My elderly people did send me some money, $50, here and there. But it wasn't the same income. Sometimes I didn't pay my full rent on time, and I had to talk to the manager.
I came down with COVID-19 in December. I couldn't work. Yes, I worried about money, but mostly I was worried about my life, because this sickness, sorry for my words, is a bitch. It looks for your weakness. I thought I was going to die. My elderly people supported me when I was sick. They sent me some money for food or whatever I needed. My babysitter employer didn't pay me anything. I just went back to work and nothing happened, which was such a surprise for me, because I thought she appreciated me. It was really disappointing. She lost her job last week. So now my hours are shorter.
Pamela*, 45, Brooklyn
I do both nannying, and I do domestic work. I've been doing that for over ten years. At the beginning of the pandemic some of my clients told me they were just looking to see what would happen, or that they would let me know when they needed me again. A lot of them are out of work. And some of them are working at home, so they do not need me to come in. I got some severance from some of my clients, but not all.
My partner is home, not working. He has been doing little jobs now and then. We had our savings, we were able to pay some of the rent. But since we're not documented, it's difficult.
Sometimes it's very rough. I feel so down I think I could cry, and not for no reason. I know why I'm crying. Because it's very hard for me. I have a daughter going to school and I couldn't even buy her Christmas presents.
For food, I Google and see where there is a food pantry. Sometimes you have to stand in a long line. Sometimes you want to give up because you're standing for so long. The work we do is important because we take care of the families. We clean places, we take care of children, make sure families can go to work while we're at home taking care of the kids. We help them make money while they in turn help us. We cannot do without each other.
*Name has been changed at the request of the subject.