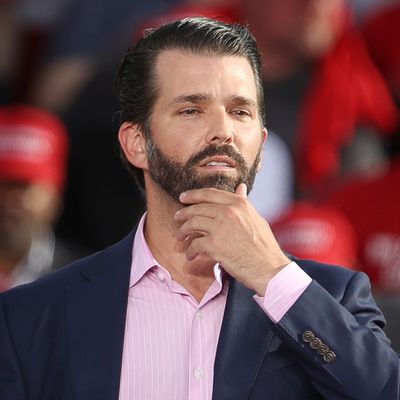 Why, tho?
Photo: Getty Images
I regret to report that Donald Trump Jr. is tweeting again. The ex-president's eldest son and loudest mouthpiece recently shared a strident video in which he aired his thoughts on California teachers unions against a backdrop of … guns. Just a bunch of guns. As Vox journalist Aaron Rupar observed, the overall mood was "extremist video posted from a bunker of undisclosed location," which … yes.
The video is rolled over from the app Rumble (effectively MAGA's answer to YouTube), and its basic thesis is that the teachers unions — which oppose sending educators back into California classrooms before coronavirus infection rates drop and vaccinations become widely available — are deliberately stalling "progress" in schools because members don't feel like doing their jobs. In reality, the issue is entirely about safety amid a pandemic that has not been contained, but Don Jr.'s screed framed it as an example of the Biden administration's hypocrisy. "The teachers union and those representing them have definitely failed our children in terms of education and everything else," he said. "The teachers union has certainly failed the science they're supposed to be teaching us, 'cause, again, it's all political."
But as Vanity Fair pointed out, it was the gun wall in the background that struck many viewers as wildly inappropriate, menacing, and aggressive. "In the era of school shootings, it's in really bad taste for Don Jr. to attack teachers on [sic] front of a wall full of guns," Randi Weingarten, president of the American Federation of Teachers, said in a tweet, adding that Trump himself made a devastating mess of national pandemic protocol. "It's gross. It feels like a threat in this climate."
Unfortunately, this is just one in a long series of Rumble videos Don Jr. has taken to tweeting recently, which have gone unchecked by Twitter's disinformation tool. To me, this feels distinctly odd, because if memory serves, Don Jr.'s dad was booted from the very same app for spreading conspiracy theories and appearing to advocate for violence. Another one of his vocal supporters, MyPillow Guy Mike Lindell, was banned for precisely the same reason. But Don Jr., who has used Twitter to do things like urge his father to "go to total war" over the 2020 election and repeatedly amplify unfounded claims of voter fraud to his millions of followers, and whose participation in the "Stop the Steal" rally that preceded the Capitol riot reportedly prompted D.C.'s attorney general to consider charges? Still on the app somehow, and still sharing the same content he always has! Wonder what that's about!