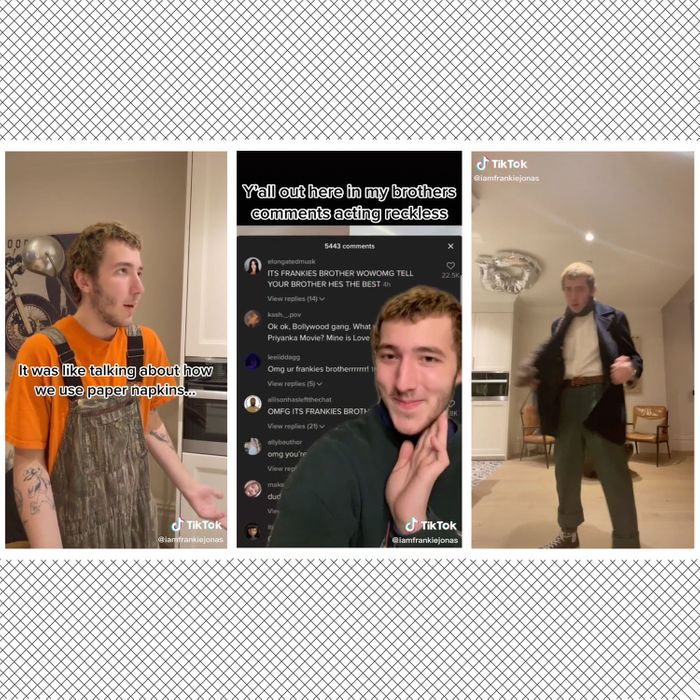 From trolling his brothers to showing off his unique style, Frankie Jonas's broad array of content is making him one of TikTok's most influential users.
Photo-Illustration: The Cut, Photos: @iamfrankiejonas/TikTok
We all know Joe, Nick, and Kevin Jonas, but are you aware of their little brother? The one who would occasionally pop up on red carpets with them in the 2000s? Often wearing a fedora? Well, like the rest of us, he got older … and joined TikTok. Frankie, the "bonus Jonas," has officially graduated from both high school and being known as "the little brother" of that famous threesome. He is now the No. 1 JoBro in the eyes of Gen Z.
Frankie joined TikTok back in October and has quickly risen to stardom for his charming, unfiltered personality. Frankie is the first one to call out his secondhand fame — a lot of his videos are just him making fun of himself for being the "unfamous" Jonas brother. Whether he is giving life updates from his bathtub, tattooing Tana Mongeau's name on his leg, or parodying scenes from Kevin's short-lived reality-TV show, Frankie Jonas has stolen the hearts of teen TikTokers everywhere. Gen Z has even gone so far as to start trolling his older brothers by commenting things like "OMG are you Frankie's brother??" on the elders' TikTok accounts. It's unclear whether they are joking or actually don't know who the Jonas Brothers are. I'm not sure if the 2019 JoBro comeback was on the radar of anyone born after the year 2000? Either way, it's absolutely hilarious.
When he's not making videos, Frankie is studying at Columbia University (an Ivy League Jonas!) or perfecting his eclectic, quirky, sometimes skater-boy sense of style. In a recent interview with Paper Magazine, Frankie reflected on his newfound young fan base: "I think Gen Z has a very specific language that we've grown up in. And every generation thinks it's so astronomically different than the last one, but ours feels so much faster and sarcastic with a nihilistic twist that makes other people confused," Frankie said. "It can be harder, sometimes, for me to make content for voices outside of my generation, but I think that I'm able to bridge it in some regards to a place where it's acceptable."
Whether you were a die-hard Nick fan, convinced yourself you were going to marry Joe, or had a secret soft spot for Kevin, it seems the kids have a whole new Jonas brother of their very own to stan.