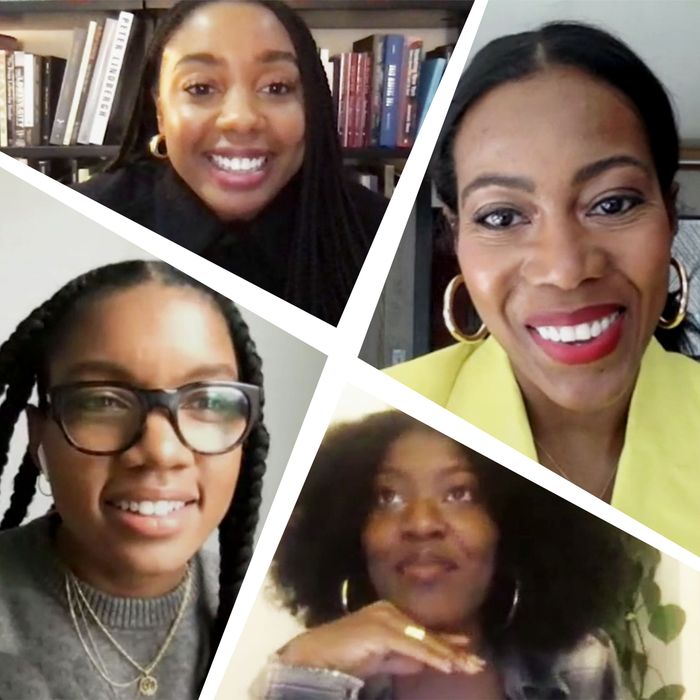 Clockwise from top left: Lindsay Peoples Wagner, Tiffany Reid, Sade Mims, and Kendra Duplantier.
Photo-Illustration: by The Cut; Photos: Black in Fashion Council
This season's New York Fashion Week looked different in more ways than one, from virtual shows to a greater emphasis on social issues. A highlight from the week's events was a partnership between the Black in Fashion Council, founded by Lindsay Peoples Wagner, incoming editor-in-chief of the Cut, and PR mastermind Sandrine Charles. The Black in Fashion Council is dedicated to the advancement of Black creatives in the fashion industry and has partnered with numerous brands, from Tiffany & Co. to Gap, in an effort to advance diversity within these companies and impose a standard of inclusivity for their Black employees.
The Black in Fashion Council hosted several virtual events during the week, including three town halls with emerging Black designers in which young creatives discussed their experiences working in fashion and how the industry could further support them.
The first town hall took place on Wednesday afternoon and was hosted by Tiffany Reid, the vice-president of fashion at Bustle Digital Group. Joining Reid on the panel was Nicole Shante, the founder and designer of her eponymous label; Rue Marie Newby from Label by Three; and Pamela Adewoyin of Lola Ade. The four women talked about the power of networking and social media to grow their brands, especially over the past year. On the topic of being a Black designer, specifically during Black History Month, the women had a variety of responses.
"I always think it's interesting when it comes to this time of year, seeing the influx of pro-Black images, which I absolutely love," Adewoyin said. "It is also disheartening. Why are we pushed during one particular month? When it comes to November, I don't see myself represented in these brands."
Nikki Ogunnaike, the digital director of Harper's Bazaar, hosted a second town hall on Wednesday evening with Theresa Ebagua from Chelsea Paris, the designer Chuks Collins, the mother-daughter duo of Rebecca Henry and Akua Shabaka from House of Aama, Whitney Michel from Michel Men, Thermal and K$ace from Whensmokeclears, and Sade Mims, the founder of EDAS. The designers emphasized the importance of standing together to ensure that this societal moment of encouraging Black creatives becomes a lasting movement.
"We hold the weight, we make it real, we make it cool," Mims said. "It's in the beginning stages. It seems fickle, but I think in three years we will look back and think, We made it."
On the topic of a lack of Black leaders in the fashion industry, Michel stated, "We are no longer looking for a seat at the table; we are creating our own table. We are creating our own big luxury brands. We can't wait around."
The final town hall took place on Thursday and was hosted by the organization's founder, Lindsay Peoples Wagner. She was joined by the designers Kendra Duplantier, Marrisa Wilson, Nicole Benefield, Areeayl Goodwin from Beads Byaree, and Kristin and Kofi Essel of Third Crown. The designers focused on how the industry can further assist their brands and expressed their desires for long-term collaboration opportunities and more exposure for their work.
Some designers shared their fear of being seen for the color of their skin instead of their talent. "When I was a little girl growing up making clothes, never in my mind was it, I'm going to be a Black designer," Duplantier said. "I just wanted to be a designer."
To learn more about these emerging designers and their experiences in the fashion industry, stream the town halls here and visit the Black in Fashion Council website for further information about the incredible work they are doing.