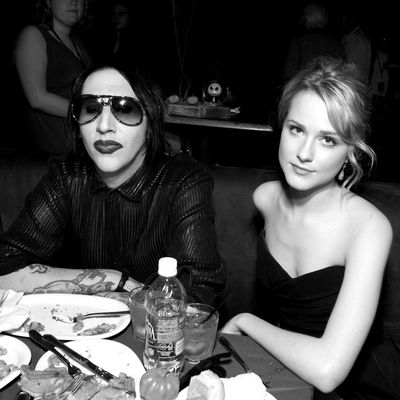 Marilyn Manson and Evan Rachel Wood in 2006.
Photo: E. Charbonneau
Actor Evan Rachel Wood has come forward with yet more abuse allegations against her former fiancé, Marilyn Manson. Last week, Wood formally named the musician as the man she previously told Congress subjected her to "sick rituals of binding [her] up by [her] hands and feet to be mentally and physically tortured" during their relationship. On Friday, Wood added a new layer to the allegations, saying Manson subjected her to anti-Semitic harassment, and habitually used racial slurs.
"I was called a 'Jew' in a derogatory manner," Wood wrote in her Instagram stories, according to People, which published screenshots. She explained that her mother converted to Judaism and "raised [her] with the religion," which Manson would allegedly tell her was "better" because she wasn't "blood Jewish." Nonetheless, she wrote: "He would draw swastikas over my bedside table when he was mad at me."
Manson has not commented on the claims, outside of his denial of any abuse last week. Wood, however, pointed to three of Manson's tattoos, which she says he didn't have when they started seeing one another: two symbols that resemble swastikas, and one the actor believes references a skull and crossbones used by the Nazi forces that administered concentration camps. (The Daily Mail published images.) She also accused the actor of using "the N-word over and over," and being "singled out and abused more" for calling him on it.
Wood and Manson began dating in 2005, when she was 18 and he was nearly two decades older. They broke up in 2010, after getting engaged that year. In her initial post, Wood said Manson groomed her, then "brainwashed and manipulated [her] into submission," confirming what many had already guessed. Without naming him, Wood spoke publicly about an abusive partner in 2018 and 2019, offering testimony in front of the U.S. Congress and California Senate, respectively. Nonetheless, Manson's previous statements about Wood — including that he had "fantasies every day about smashing [her] skull in with a sledgehammer" — combined with similarities in testimony from another of his exes, fueled suspicion. His record label, his talent agency, and the TV series American Gods dropped him in the wake of the allegations.
Manson has not responded to Wood's latest statements, but in an Instagram post last week, he called the mounting accusations of abuse — now echoed by more than a dozen women, Wood included — "horrible distortions of reality."
"My intimate relationships have always been entirely consensual with likeminded partners," he wrote. "Regardless of how — and why — others are now choosing to misrepresent the past, that is the truth."
Still, Wood reportedly wrote on Friday that she and Manson "never had a 'BDSM' relationship. We didn't even have 'kinky' sex. We weren't having sexual intercourse when I was being tortured, before or after."
"I have never been more scared in my life," she added. "I thought I was going to die the entire time."