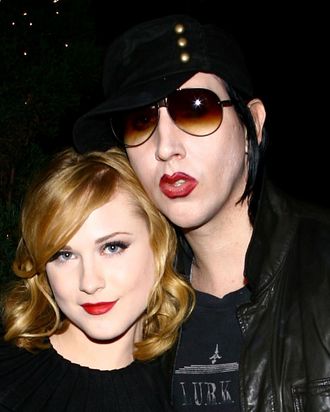 Photo: Scott Wintrow/Getty Images
In 2018, Evan Rachel Wood sat in front of Congress and said she had been raped and beaten by a former partner. To advocate for a bill to better protect sexual-assault survivors, she spoke about being subjected to "sick rituals" that involved "binding me up by my hands and feet to be mentally and physically tortured until my abuser felt I had 'proven my love for them.' In this moment, while I was tied up and being beaten and being told unspeakable things, I truly felt like I could die."
At the time, the Westworld star said she didn't feel safe enough to name the alleged perpetrator. But on Monday morning, she posted a statement to Instagram, publicly confirming many people's suspicions for the first time:
Four other women posted similarly harrowing accusations against Marilyn Manson, ranging from psychological and emotional manipulation to physical and sexual assault. Sarah McNeilly said in her statement that the singer would lock her in rooms when she was "bad" and berate her for "hours upon hours." (The Cut confirmed this treatment with an anonymous source who feared legal repercussions and used to be part of Manson's inner circle.)
Ashley Walters said, "It felt like I was his property because he would offer me up for sexual encounters to please potential collaborators or friends and bragged that he could do so," a fact the Cut also confirmed with the same source who says they witnessed these interactions. Walters, who worked as Manson's personal assistant for a time, says the singer would force her to stay at his house for days, sometimes without sleeping, and he would throw "glass plates and heavy objects" around. "Many nights, I feared for my safety or the safety of others," she said.
"I remember he wanted to do a photo shoot and kept her there for 48 hours, at least, just straight up working," said the anonymous source, adding that the singer "broke a lot of stuff, would put holes in the wall."
Walters said Manson would inflict "psychological abuse" on his employees and women he dated. "He would dictate the parameters of our reality. Horrifying, deranged behavior and insane scenarios became normalized." The anonymous source agreed with this account and said that the singer "had to control everything" and that everyone in his orbit had to play by his rules. "If you said, 'Oh, it's daytime,' he'd say, 'No, it's not. It's nighttime.' That's the kind of mind game where it's like, 'You're on my time.'"
All of the women who came forward describe suffering from severe mental-health issues like depression and PTSD. "I have night terrors, PTSD, anxiety, and mostly crippling OCD," said Ashley Lindsay Morgan on Instagram. "I try to wash constantly to get him out or off of me. I am coming forward so he will finally stop."
"I believe he gets off on ruining people''s lives," wrote McNeilly. "I stand in support of all that have and all will come forward. I want to see Brian [Warner] held accountable for his evil."
Another accuser* wrote, "I blocked out a lot of the memories, but the feelings remain and manifest in various ways. The reason I'm finally sharing this traumatic experience is for my healing and because I'm done being silent. I don't believe it's fair for someone to not be held accountable for their horrific actions. I'm not a victim. I'm a survivor."
Manson denied the allegations in a social media statement: "Obviously my art and life have long been magnets for controversy, but these recent claims about me are horrible distortions of reality. My intimate relationships have always been entirely consensual with like-minded partners. Regardless of how — and why — others are now choosing to misrepresent the past, that is the truth." His record label, Loma Vista Recordings, has now dropped him.
Since Wood began speaking out about being a survivor of domestic violence, there has been widespread speculation that Manson was her alleged perpetrator. (In September, Dan Cleary, a guitar and bass technician who says he worked for Manson while Manson was dating Wood, posted on Twitter and confirmed with the Cut that the singer "turned her into a different person. He broke her.")
They met in 2005, when she was 18 and he was almost two decades older, and were engaged in 2010 before breaking up the following year. In the past, Manson has revealed disturbing details about the relationship. During a period when they were broken up in 2009, he told a Spin reporter that he has "fantasies every day about smashing [Wood's] skull in with a sledgehammer" and that on Christmas Day in 2008, he called Wood 158 times and cut his face and hands with a razor blade to "show her the pain she put me through." (In an interview with Metal Hammer published last November, one of his representatives said, "The fact that Evan and Manson got engaged six months after this interview would indicate that no one took this story literally.")
Without naming Manson, Wood had also publicly shared traumatic details online. On Instagram in 2019, she posted a series of images from a photo shoot that she said were taken on a day when she was "so weakened by an abusive relationship" that she was "emaciated, severely depressed, and could barely stand. I fell into a pool of tears and was sent home for the day." A month later, she also told a California Senate committee about her experience. "Once I was weakened by no sleep and little food, he would sometimes force me to partake in acts of fear, pain, torture, and humiliation, which he would videotape and which I felt powerless to stop," she said in testimony to help support a bill that extends the statute of limitations on domestic-violence felonies. (Esmé Bianco, the Game of Thrones actress who dated Manson after Wood, also testified in front of the California Senate about being in an abusive relationship with a partner who bruised and whipped her body and controlled what she ate and where she went. Both she and Wood say they were tortured with an electric device called a Violet Wand.)
In September, Manson hung up on a journalist from the music publication Metal Hammer who asked about Wood's public testimony. The singer's U.K. PR representative later responded to follow-up questions from Metal Hammer, saying, "Personal testimony is just that, and we think it's inappropriate to comment on that." The rep went on to say that "Evan Rachel Wood dated multiple people around the time she was dating Manson," and the representative cited his good relationships with other exes, such as Rose McGowan, and a 2015 article in which Wood spoke favorably about the relationship.
The actress has said in past interviews that it took her a while to understand what was happening. As a teenager, Wood claims she was manipulated and coerced by Manson (whom she didn't name at the time) and told the California Senate committee that she was conditioned to blame herself for the alleged abuse. And she was isolated from anyone who could tell her otherwise.
In the aftermath of her relationship, she says she dealt with severe PTSD that included nightmares and paranoia. She told Congress that she only began getting professional help after she was hospitalized following two suicide attempts.
In 2019, Wood told Glamour that she decided to speak publicly about her sexual assault after finding out other women had allegedly gone through similar experiences. "That changed everything. It helped me feel stronger, because it wasn't just about me — I'm not just fighting for me anymore."
This post has been updated to remove the full name of someone who experienced harassment after accusing Manson of abuse.