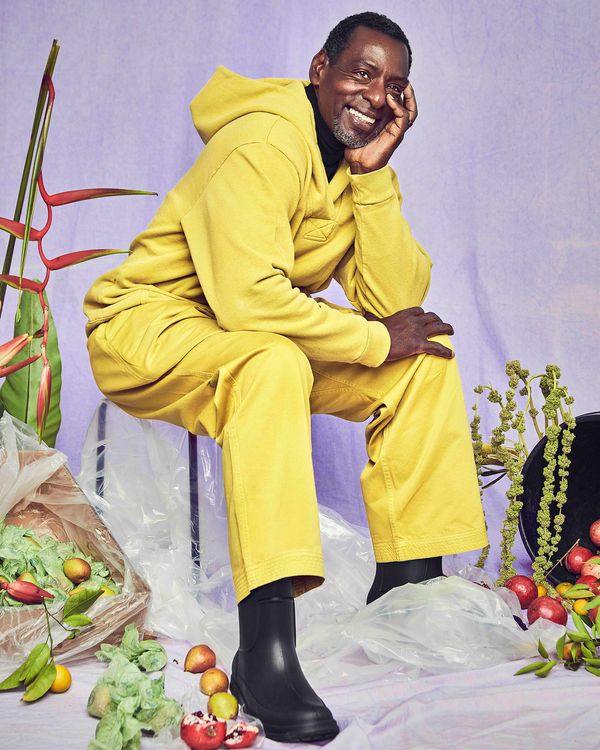 Ron Finley, the self-described "Gangster Gardener" of his hometown of South-Central Los Angeles, is known for his MasterClass series and TED Talk about the power of gardening to build communities. "A garden brings freedom," he told the Cut. "Everybody should know how to grow food and feed themselves."
When Finley first planted vegetables in a neglected curbside dirt patch, he was cited for gardening without a permit by the City of Los Angeles, and a warrant was issued for his arrest. But Finley fought back and won the rights to garden and grow food in his neighborhood, where access to healthy food options are extremely limited. The seeds of a movement were planted, and now he hopes to rejuvenate communities through gardening all around the world. To make this goal a reality, Finley has teamed up with sustainable and ethically responsible brand Everybody.World on a collection benefiting his nonprofit, the Ron Finley Project.
Everybody.World is an L.A.-based brand dedicated to paying workers fair wages and repurposing cotton waste to make its gender-neutral clothes. Its work with Finley is technically part of a series in which the company creates clothes with people who are not designers — but Finley is an exception, since he actually got his start in fashion with a brand called Dropdead Collexion, which was sold in major department stores in the '80s and '90s. How does someone go from fashion to gardening and back to designing a fashion collection, anyway? Finley thinks there's no real difference. "Where does everything come from? The soil," he said. "It's the same thing if you do it with creativity and you do it with passion."
The collection, which revives some of Finley's earlier work, includes hoodies, pants, totes, bandannas, and T-shirts with some of Finley's sayings like "All We Need: Air, Light, Beauty, Soil, Water, Patience, Love." He'll receive 10 percent of the sales from the pants and hoodies, which will go to the Ron Finley Project. Everybody.World will be matching his donation. One-hundred percent of the proceeds will be donated to his organization for all the other pieces in the collection. Shop it all below.