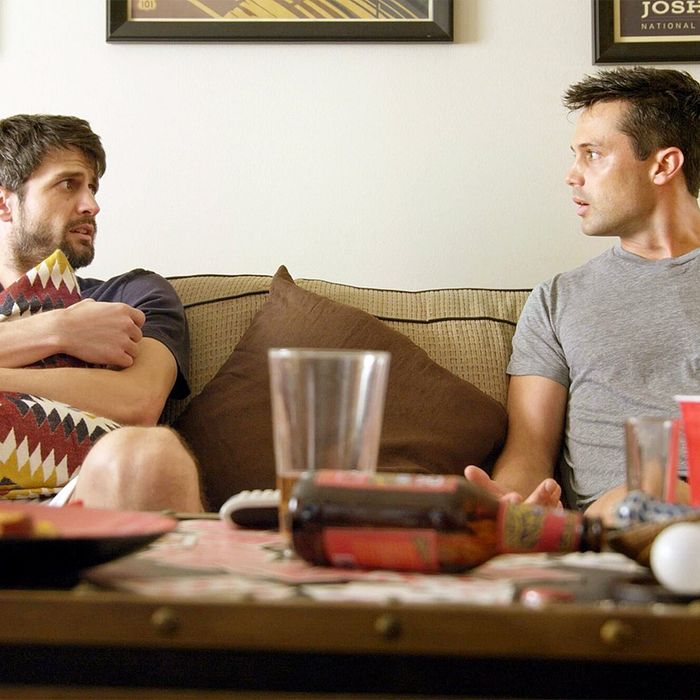 Even if you've never seen the teen soap One Tree Hill, you have probably heard about its most famous scene: Dan Scott, the show's archvillain, is finally about to get a long-awaited heart transplant, but before the heart can get to him, it is eaten by a golden retriever. In a series of long, dramatic shots, Dan watches helplessly as an EMT, hastily transporting his new heart in a cooler, trips over the dog's leash, sending the heart skipping across the hospital floor, where it is quickly lapped up. No one makes a move during this time to retrieve the heart. Standing nearby, one of Dan's estranged sons, played by Chad Michael Murray, merely looks at him wryly, like, Yep, there goes your heart.
It is by far the most absurd moment in an absurd show that stretched the boundaries of taste and reality for nine seasons on the WB, then the CW, always teetering between outrageousness and self-seriousness. Although it developed a cult fan base, none of its stars have really grown out of the fame they had on OTH, and, thinking about that scene, you can understand why. When they've been characters for so long in this deranged world, in which high-school students open nightclubs and have pop careers, get kidnapped by a fake brother, then saved by a real brother, and start clothing lines and date Pete Wentz, all in their idyllic North Carolina town … why would you want to see them doing anything else?
This is why I was delighted to discover that two One Tree Hill alums, now solidly into their 30s, are actually moving on by making a show called Everyone Is Doing Great, streaming on Hulu, which explicitly takes up this post-heartthrob paradox. What's a pair of washed-up hunks to do?
Stephen Colletti and James Lafferty, who created the new series and star in it, play Seth and Jeremy, two ex-stars of a teen-vampire soap sensation called Eternal who are struggling to find their second acts five years after its finale. They are essentially playing versions of themselves: On OTH, Lafferty was the handsome Nathan Scott, Dan's son, a basketball-player bad boy, while Colletti played Chase, a nice-guy love interest who joined the show a few years in as a member of the virginal high-school club Clean Teens. Even before Colletti was on One Tree Hill, he was a famous hot guy; he starred for several years on the iconic MTV reality show Laguna Beach, dating Kristin Cavallari and Lauren Conrad, so this new venture, for him, is almost a third reinvention.
Like a Curb Your Enthusiasm for millennials, the pleasure of the show is in knowing how this real-life backstory informs Seth's and Jeremy's foibles. Floating on plucky, pleasant music, like the kind that might play in a tiki bar, the characters navigate their post-fame doldrums together, all while the actors wink at their own firsthand experience. Even as it illustrates all the ways that being a teen soap star can ruin you, the show has a light touch. The dialogue is natural and bro-ey, as you would imagine it really is between Colletti and Lafferty. Jeremy, played by Lafferty, is the deadbeat one, living off his dwindling vampire-hottie money and smoking a lot of weed while attempting to work out. Colletti's Seth is his sweeter, straitlaced counterpart, earnestly trying to return to acting and find some legitimacy. Everyone, including Los Angeles, is very beautiful.
There's something relatable about the inertia the characters are fighting as they go from bad audition to bad audition, getting recognized on the street as vampires while some of their former co-stars book bigger, better gigs. The eight episodes are full of montages to this effect — drinking montages, drug-taking montages, a lot of partying montages in general. Of course, their lives are still very nice, but the show somehow gets at the awkward in-betweenness of adulthood, when you're desperate to be taken seriously but you don't know quite how. Their self-deprecation is cathartic. Yes, you can be rich and have washboard abs, but you can still humiliate yourself. And that's a grounding thought.