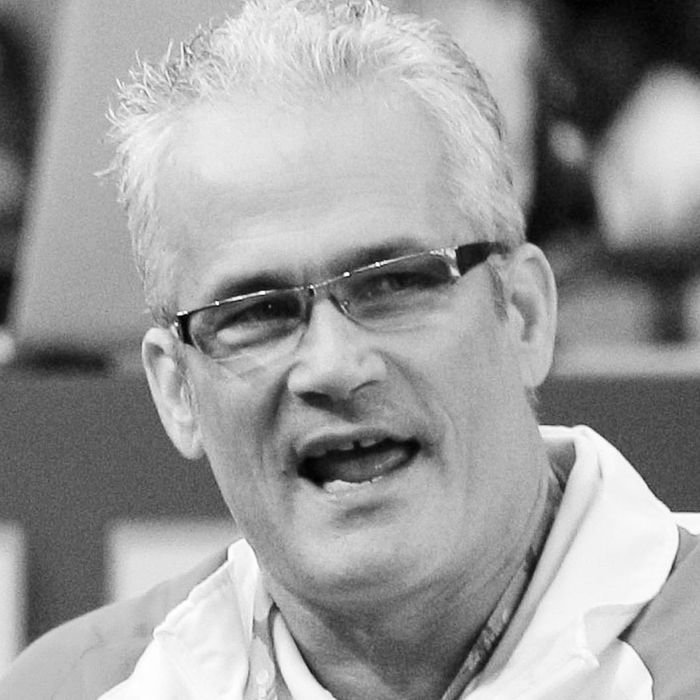 John Geddert.
Photo: Kathy Willens/AP/Shutterstock
Former U.S. Olympic gymnastic coach John Geddert has died by suicide ahead of his arraignment on a raft of criminal charges pertaining to his alleged abuse of children — including several counts of forced labor resulting in injury, multiple counts of trafficking of minors, and two counts of sexual assault.
Geddert's attorney confirmed the death to ESPN reporter Dan Murphy, hours after Michigan attorney general Dana Nessel announced that her office was bringing 20 counts of human trafficking against Geddert. On top of those, she added one count each of first-degree sexual assault, second-degree sexual assault, racketeering, and lying to a police officer. According to Nessel, all of the victims involved in the case were minors.
"John Geddert used force, fraud, and coercion against the young athletes that came to him for gymnastics training for financial benefit to him," Nessel said during a press conference on Thursday afternoon, according to ESPN.
"The victims suffer from disordered eating, including bulimia and anorexia, suicide attempts and self-harm," she continued, noting that Geddert also forced gymnasts into "excessive physical conditioning," made them "perform even while injured," and inflicted on them "extreme emotional abuse and physical abuse, including sexual assault." The assault reportedly involved the digital penetration of a girl between the ages of 13 and 16, in 2012.
Geddert was head coach of the U.S. Olympics gymnastics team in 2012, and used to own Twistars, the Michigan gymnastics club where former team doctor Larry Nassar abused dozens of his underage patients. In 2018, Nassar pleaded guilty to sexually abusing seven minors and received a sentence of up to 175 years in prison, after more than 150 of his apparent victims spoke in court. Geddert was known as one of Nassar's chief enablers; he continued to defend Nassar as "an extremely professional physician" even after USA Gymnastics fired the doctor in 2015. Priscilla Kintigh, a former office manager at Twistars, told ESPN that, together, "John and Larry were like this perfect storm."
The survivor testimony at Nassar's sentencing hearing reportedly triggered the investigation into Geddert, whom Nessel's office believes misled police about Nassar's practices. According to the Lansing State Journal, Geddert allegedly told authorities that he had never received any complaints about Nassar's conduct with patients, and that he had never heard about any members of his gym receiving intravaginal "treatments" there. (Nassar's patients say he often penetrated them with his fingers when they presented with back pain.) The trafficking charges encompass 14 counts of forced labor resulting in injury (and for financial gain, thus the racketeering charge), and six counts of trafficking a minor, according to the New York Times.
According to NBC, Geddert's body was found in Grand Ledge, Michigan, on Thursday, after he failed to appear at a 2:15 p.m. arraignment.
This story is developing.
In the U.S., the National Suicide Prevention Lifeline is 1-800-273-8255.