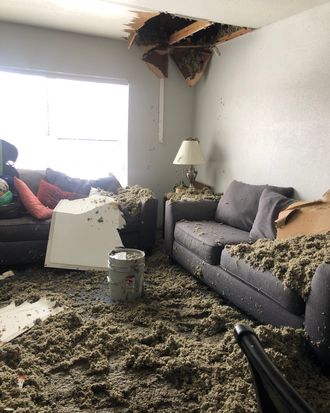 Photo: Courtesy of Family Place
It has been a brutal year for Family Place, a women's shelter for victims of domestic violence in Dallas. The pandemic caused a surge in intimate partner violence, but it has also decimated capacity in shelters, which have been forced to turn people away due to social-distancing guidelines. Though Family Place was no longer able to fill all of its beds, the shelter took in residents regardless of COVID status, and staff became essential workers on the front lines. They thought they were seeing the light at the end of a yearlong tunnel of exhaustion and uncertainty. And then the winter storm came last week.
For two days, without power, 123 women and children huddled for warmth under blankets in the bitter cold. With only one gas stove for cooking, staff members attempted to make meals in the pitch dark. They eventually made the call to evacuate residents to a church that hadn't lost electricity — but as residents packed up their belongings, waterlogged ceilings in multiple rooms suddenly caved in. "You could hear clients screaming" throughout the building, Paige Flink, the organization's CEO, told the Cut. Freezing water came rushing down, drenching occupants and flooding hallways; the New York Times referred to it as a "freezing waterfall." Many residents lost all their possessions, including important legal documents and valuables. Wet insulation blanketed rooms and ruined furniture.
"Here we figured we were just starting to come back around, we were getting vaccinated," Flink says. "This is a huge blow. I don't know how much more we can take."
No one at the shelter was hurt in the flooding, but the storm shattered an already fragile sense of peace for the women of Family Place and their children, some of whom live in emergency shelter accommodation and some of whom in apartment-like transitional housing. "These women were in quarantine during the pandemic with abusers, and then they came here, and we're trying to keep them safe — and then the storm," Flink says. One 4-year-old boy arrived at the church once the group was safely evacuated and immediately threw up. According to Flink, "It was almost too much to experience."
At least three other shelters in the city have reportedly been forced to evacuate. Now, Flink is not sure where people in need will go. "We have 379 beds in Dallas County for women who need shelter from domestic violence; 110 were at this shelter, the biggest one," she says. "We can't afford to lower our capacity."
Even more frustrating for the CEO is that Family Place had already undergone damage in a severe winter storm during extreme weather in 2011, when the fire suppression system at the shelter also froze. When the building was repaired, Flink says insurance would not pay for additional upgrades that may have prevented the pipes from freezing again. She's not sure that the insurance company will make a decision this time around. She is hoping to receive help from the state and from the federal government, but waiting in the dark for two days left her feeling doubtful. "I really do question our response system," Flink says. "Why wasn't Texas prepared?"
Flink is getting ready to move her clients again to accommodation at an extended-stay hotel, which she estimates will cost between $180,000 and $190,000. (Family Place doesn't have anywhere to store clothing donations at the moment, but is soliciting financial donations at their website here.)
"We just had another domestic violence incident in East Dallas last night," Flink says. "When you have people needing shelter from domestic violence, they need help now. You can't just say 'Sorry.' Other people that are doing this work are doing the same thing I am, just figuring it out. We're tough, and we can do it. But it has been exhausting."