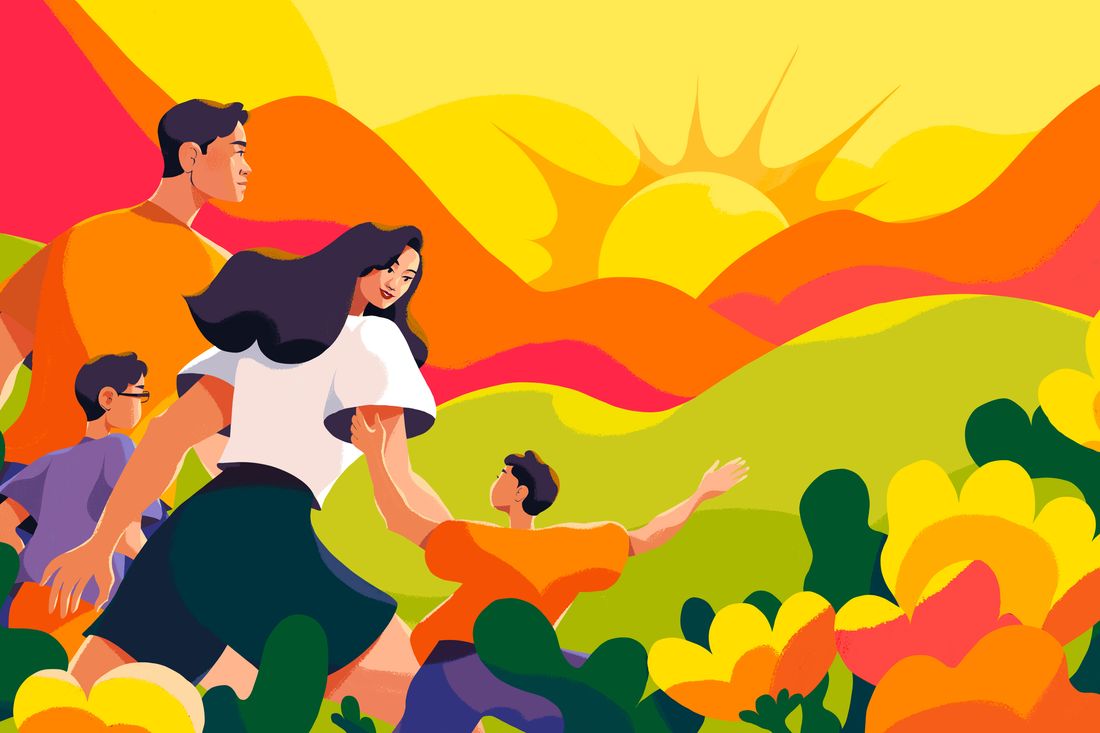 Dr. Felicia Wong is well-versed in maintaining that ever-elusive concept of a work-life balance. A physician, outdoor enthusiast, and wellness blogger based in southern California, she splits her time between work, running her popular Instagram account Everyday Adventure Fam and blog of the same name, and taking care of her two sons, ages 8 and 5½. Her days are busy, but she still finds ways to enjoy moments of brightness for herself and to inspire other parents on her blog, sharing her favorite family-friendly activities, tips for making memories, and snippets of her adventure-filled life with her loved ones. "During my time off, I make sure to do things that nourish my soul and fill my cup, because we need to be well ourselves, in order to have the strength and energy to give to others," Wong says.
As we dive further into the new year, it's time to refresh that commitment to taking care of ourselves — and one another — with daily routines that prioritize health and well-being. And as Wong points out, it's important to have little moments of joy: She likes having breakfast with her sons and going for short walks in her neighborhood. Whether our joyful moments include taking a few moments of zen meditation in the morning, filling out a gratitude journal in the evening, or making a workout-recovery smoothie full of vitamin C from Tropicana's pure orange juice, we need that time to enjoy brighter days. (Or as Wong puts it, to find the "wonder" in each day.) Here, with Tropicana, we asked Wong all about her little moments of sunshine — consider it inspiration for brighter days ahead.
On using her popular Instagram account to brighten others' days:
I share content that celebrates the things that are important to us, and that encourage choosing joy, finding the wonder in every day, connection, community, and living intentionally … The most rewarding part of Everyday Adventure Fam has been making meaningful connections, and receiving direct messages and comments that our posts and stories have helped someone look at life in a different light, cope with challenging times, try something new, or get outside more. As an Asian American family, we recognize representation matters, and encourage more diversity (including in ethnicity, ability, and age) in the outdoor space, as well.
On her daily routines and finding time for family:
As a two-physician household, our weekdays are generally pretty busy. After waking up, our focus is on getting the boys ready for school. Jason makes us coffee, and I cook a hot breakfast … Eating breakfast together is an important time to check in with one another, and set a positive tone for the day. We talk about and plan for the day ahead. As parents, we ask about and learn about our children's interests. We explore things they might have questions about and try to help answer them. Having a nutritious, loving, and intentional start to the day helps ensure physical, mental, and emotional wellness.
My parents help pick them up from school and supervise their extracurriculars (violin practice, swim practice) until I'm done with work. Then either [my father or I cook] the family dinner, which we eat together as a multigenerational family. After dinner, we help with homework, and if there is extra time we all play a game together. Before bed, Jason and I each read with one of the boys. Only after then do I have some time to rest. That's usually when I do my adventure planning, photo editing, and write my blog.
On making time for herself throughout the day:
I've always been a multi-tasker with a full and busy schedule, so I've learned to rest when I can, and take mental-wellness breaks between flurries of activity. My quiet moments tend to be after the boys go to bed. It's not a lot of time, but it is a time that I enjoy for myself.
On joyful little moments with loved ones:
Perhaps due to the nature of our work, [my husband and I] recognize how precious life is and that every day is a gift. We cherish every bit of time we have. Joy and family time don't have to be a big trip or adventure. To our kids and to us, what's most important is that we are present in the moment and spending it together. It could be checking in with each other over [breakfast or] dinner, helping our boys with homework, or reading together before bedtime.
We make the most of what time we have — whether it's an hour of baking together, playing board games, going for a neighborhood bike ride, a couple hours exploring tide pools at our local beach, or a quick little trip. What is most important for creating special memories is pouring love and intention into the moments you spend together.
On being a "foodie family":
[Our family] loves to cook together, bake together, and eat together. We believe in eating a wide variety, and everything in moderation. We sometimes pair our meals and snacks with milk or juice — I grew up drinking Tropicana orange juice, so it is a brand that I trust and have continued to purchase for my family. We [also] recognize the importance of vitamin C, and incorporate it into our balanced diet.
On weekends, we love a slow family brunch with homemade waffles and sliced fruit and whipped cream, and bacon. We also enjoy a nice bagel and lox spread, or breakfast scramble. Every now and then, we like to indulge in some artisanal donuts from local bakeries.
On practicing daily gratitude:
It is never lost on me how fortunate I am to have a healthy and loving family, supportive parents, wonderful friends and colleagues, and a job that is meaningful and rewarding. This might sound a bit cheesy, but when I look through our photos and think about the experiences my family and I have had each day, I am full of gratitude and contentment. I have been cultivating [a] gratitude practice in my children, as well: When I'm driving them to school in the morning, I try to ask them what they are thankful for as a good way to start the day.
This advertising content was produced in collaboration between Vox Creative and our sponsor, without involvement from Vox Media editorial staff.