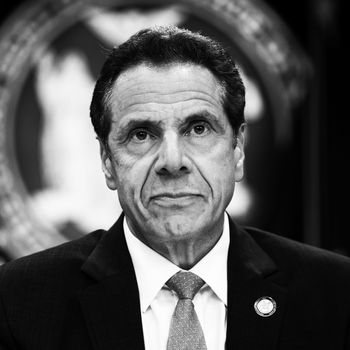 Photo: Drew Angerer/Getty Images
In a Medium post shared on Wednesday, a former aide to New York governor Andrew Cuomo described the toxic and sexist environment the governor fostered in his staff and claims he sexually harassed her and kissed her on the lips against her will in his office after a meeting.
"Governor Andrew Cuomo has created a culture within his administration where sexual harassment and bullying is so pervasive that it is not only condoned but expected," wrote Lindsay Boylan, who is currently a candidate for Manhattan borough president. "His inappropriate behavior toward women was an affirmation that he liked you, that you must be doing something right. He used intimidation to silence his critics. And if you dared to speak up, you would face consequences."
Boylan first spoke out about Cuomo's abuse in December, writing on Twitter that he harassed her for years and that "many saw it" and did nothing. (Cuomo vehemently denied the allegations.) She wrote that she was motivated to speak out again after hearing about the harassment and intimidation New York assemblymember Ron Kim says he faced after criticizing the governor's alleged cover-up of COVID-related deaths in nursing homes.
"I'm compelled to tell my story because no woman should feel forced to hide their experiences of workplace intimidation, harassment and humiliation — not by the Governor or anyone else," Boylan wrote.
In her post, the former staffer went into greater detail about the kinds of harassment she and her female colleagues allegedly faced. Cuomo, she said, would touch her on the lower back, arms, and legs. Boylan also says her boss told her the governor had a "crush" on her and that Cuomo would make comments about female staffers' weight and appearance.
For a long time, Boylan wrote, she tried to dismiss the governor's behavior as "only words," but that changed when he got physical after the pair had a meeting about economic and infrastructure projects. "We were in his New York City office on Third Avenue. As I got up to leave and walk toward an open door, he stepped in front of me and kissed me on the lips. I was in shock, but I kept walking."
She resigned from the Cuomo administration in late 2018.
After her tweets in December, Boylan says two other women reached out to her to share their experiences with the governor's bullying and harassment. "Both told me they are too afraid to speak out," Boylan said.
In a statement on Wednesday, Governor Cuomo's press secretary Caitlin Girouard denied the allegations. Girouard also refuted Boylan's claim that during an October 2017 flight, the governor suggested they play "strip poker." Four staffers had been on all of the flights with Boylan and the governor that month, they said, and all four denied that the interaction Boylan describes took place.
This post has been updated with a statement from the governor's office.