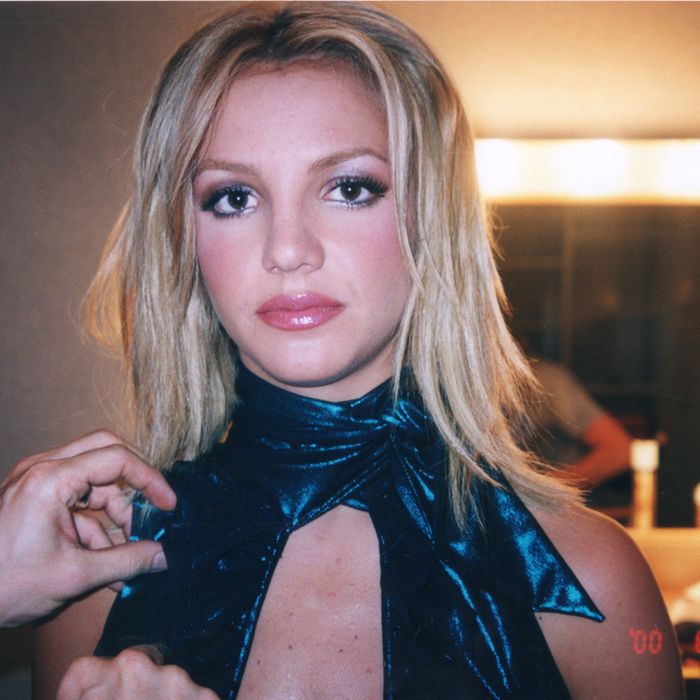 Behind the scenes during the shoot for the "Lucky" music video in 2000. A moment captured by Britney's assistant and friend Felicia Culotta.
Photo: FX Networks
For more than a decade now, Britney Spears — a 39-year-old woman with nine studio albums, multiple world tours, and a wildly successful Las Vegas residency under her belt — has lived her life largely at her father's discretion. Since he became Britney's legal conservator in 2008 after a series of emotional, high-profile incidents that culminated in Britney being involuntarily committed, Jamie Spears has exercised control over her wellbeing and her finances.
The details of the conservatorship have long been opaque — but they are unusual enough that a growing number of her fans suspect the pop star's father of effectively holding her and her fortune hostage. The "Free Britney" movement has thrived on social media, gaining so much notoriety that the New York Times threw a spotlight on the arrangement in the latest installment of its FX and Hulu docuseries, The New York Times Presents.
While the bulk of the episode's information on Britney's conservatorship has already been documented at length, "Framing Britney Spears" offers new insight into a career shaped by misogynistic media currents and relentless tabloid scrutiny — basically, how the situation materialized in the first place. Below, the biggest takeaways from "Framing Britney Spears."
Britney was heavily scrutinized by the media, starting when she was just 16.
Britney was 16 years old when her single, "Hit Me Baby One More Time," vaulted her to extreme fame. Despite the suggestive nature of the lyrics (which Spears did not write) and the video (the concept for which mostly came from a team of adults), Spears herself presented as a wholesome teen. The public image created around her seemed more like a function of the machine behind her stardom than it did of her own personal aesthetic. As the Times episode makes clear, the media vacillated between emphasizing her innocence and shaming her for being overly sexualized — despite the fact it was largely responsible for perpetuating this dichotomy. In one vintage clip, an interviewer informs Spears that "everyone is talking about" her breasts, then wonders why she "seem[s] to get furious when a talk-show host comes up with this subject." Another surfaces criticism of her "sexy Lolita look," while yet another notes: "To many, you are a contradiction. On the one hand, you're a sweet, innocent virgin type; on the other hand, you're a sexy vamp in underwear."
Any pushback from Britney seems to go largely ignored, and as one of her former stylists, Hayley Hill, points out in an interview: "At some point in our lives, we stop trying to please everybody."
Britney's ex, Justin Timberlake, allegedly exploited sexist public perceptions of her.
In the wake of Britney's breakup with former *NSYNC member, Justin Timberlake, the docuseries suggests that Timberlake manipulated the tabloid narrative: In the music video for "Cry Me a River," he insinuated that she had cheated on him. Britney would've been 19 at the time, and despite her public assertions that she intended to wait until she was married to have sex, Justin bragged in a radio interview that they'd slept together. While he was largely praised for "getting in her panties," as one old magazine cover displayed by the Times put it, Britney was often vilified.
The Times revived an old ABC interview with Diane Sawyer, no less, who pursues an accusatory line of questioning. "He has gone on television and pretty much said you broke his heart. You did something to cause him so much pain so much suffering. What did you do?" Sawyer asks, adding that her subject has been "upsetting a lot of mothers in this country." Sawyer pointed to the then–First Lady of Maryland, who reportedly stated that she'd shoot the singer if given the opportunity. Britney is horrified at the comment, but Sawyer intimates that it's simply indicative of "how hard it is to be a parent" when Britney is setting an example for children. Ultimately, the pop star cuts short the interview, weeping.
Britney's mother thought her 'mental breakdown' might actually have been postpartum depression.
In the months before her conservatorship fell into place, Britney was navigating a divorce from Kevin Federline, who wanted to claim sole custody of the two young sons she'd had in rapid succession. She was ceaselessly hounded by paparazzi and journalists who, according to the Times, actively painted her as an unfit mother with possible substance-abuse problems.
The unflinching scrutiny seems to have driven Britney to extreme behavior, including shaving her head in a bid to shake photographers, and attempting to smash a paparazzo's window with an umbrella. (Perplexingly, the paparazzo in question asserts in the episode that "She never gave a clue or information to us that, I don't appreciate you guys, leave me the eff alone," despite multiple clips of her telling photographers precisely that.) Almost in passing, the Times recalls a possible explanation that Britney's mother originally raised in her 2008 memoir: Britney may have been suffering from postpartum depression at the time all of this was unfolding.
Jamie Spears wasn't particularly involved in his daughter's life before he became her conservator.
According to people interviewed for the docuseries — including Britney's longtime former assistant, Felicia Culotta — Jamie Spears was not particularly involved in his daughter's life growing up. Kim Kaiman, a Jive Records executive who worked with Britney early in her career, recalled that Britney's mother was the one running the show back then, adding: "The only thing Jamie ever said to me was, 'My daughter's gonna be so rich, she's gonna buy me a boat.' That's all I'm gonna say about Jamie."
The episode also points to Britney's friendship with Sam Lutfi, who functioned as a sort of manager and frequent companion for her beginning in 2007, implying that her family may have feared that Lutfi would somehow gain control of Britney's fortune. Her father — whom the Times indicates had long interested himself primarily with her wealth — ultimately filled that role instead. He has since taken out a restraining order against Lutfi.
There's very little way to glean the reality of Britney's situation without more transparency about the arrangement.
But still there's very little concrete information available to tell fans what the conservatorship is really like for Spears, and none of the people with immediate knowledge agreed to be interviewed for the series. It's public knowledge that, as of November, the performer moved to have her father permanently ousted from his conservator role entirely, arguing that she was "afraid" of him and would "not perform as long as her father is in charge of her career." It's also known that she has requested substantive changes to the arrangement and greater transparency about its inner workings for her fans. Without that, Adam Streisand — whom Spears originally attempted to retain as her attorney when the conservatorship first came into existence, specifically because she wanted an outside professional to handle the situation rather than her dad — explains in the episode, "We don't know what we don't know." Although Streisand indicates that, from the beginning, Britney struck him as capable enough to make decisions on her own, it is impossible to guess at the potential caveats of Britney's personal life and mental health without firsthand knowledge of what the conservatorship entails.