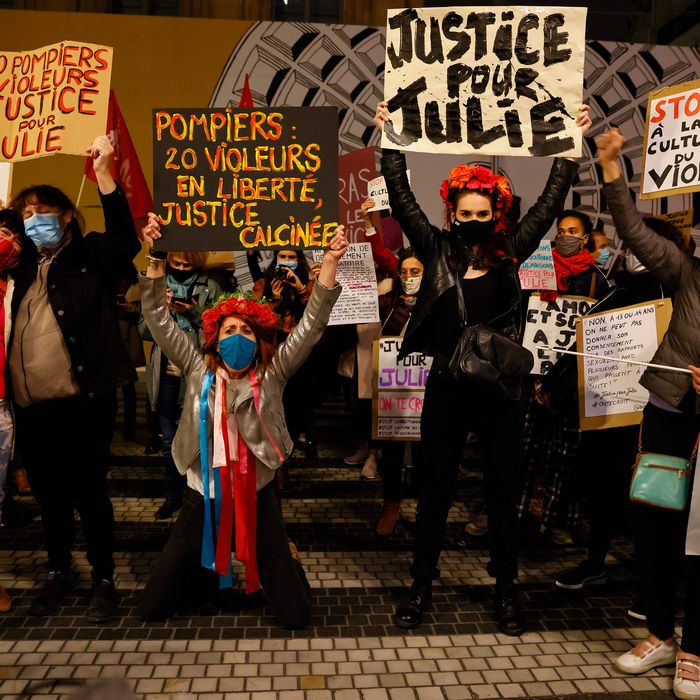 The French government seeks to set the age of sexual consent — what would be the country's first — to 15.
Photo: Thomas Samson/AFP via Getty Images
France has taken a long-overdue step to better protect children against sexual abuse. On Tuesday, the country announced that it would finally set the age of sexual consent — something it currently does not have — at 15. While the country pursued similar legislation in the wake of the Me Too movement, it ultimately failed due to legal complications. However, after a prominent French political expert was accused of incestuous child sexual abuse last month, prompting tens of thousands to publicly share their own experiences in a massive social-media campaign, the movement picked up new momentum.
Here's everything you need to know about France's current laws around sexual relations with minors, and the movement that led to the government's recent action.
France does not currently have an age of sexual consent.
The laws around this issue are complex. Under French law, rape is defined as sexual penetration "under violence, duress, threat, or surprise," regardless of the victim's age. While current law criminalizes sexual relations with a minor under the age of 15, these cases are typically prosecuted as an offense that carries lighter penalties. In order to bring more serious charges of rape, prosecutors have to prove that violence, force, surprise, or coercion were involved, even in cases where the victim was as young as 11 years old.
Because of the France's nonexistent age-of-consent laws, as well as those around statutes of limitations involving sexual violence against children, the country has struggled to prosecute alleged perpetrators of child sexual abuse. "The figures on violence against children are bad for most of Europe," psychologist Muriel Salmona told the BBC. "But in France there is a current that tolerates sexual violence against children."
Amid the Me Too movement, calls to set an age-of-consent law mounted.
In the wake of the Me Too movement, as France was reeling from two high-profile cases involving adult men who were accused of raping 11-year-old girls, the country began to scrutinize its lax laws around child sex abuse, as well as its libertine attitude toward sex. In March 2018, the country introduced a package of laws intended to combat the prevalence of misconduct, which included fines for sexual harassment and set the country's age of consent to 15. However, following pressure from men's groups, the age-of-consent law was scrapped after a government report concluded it would result in "an assumption of guilt."
The push has gained new momentum in the wake of incestuous child sexual abuse allegations against a prominent political expert.
The movement gained renewed momentum last month, after the stepdaughter of Olivier Duhamel, a prominent political commentator, accused her stepfather of abusing her and her brother 30 years ago. While Duhamel decried the allegations as "personal attacks," a public campaign mounted. Under the hashtag "MeTooInceste," tens of thousands of people shared devastating testimonies of suffering sexual abuse as children, particularly at the hands of family members. "This is the biggest wave of testimonies on sexual violence suffered by children in our country," read a tweet from Nous Toutes, the sexual-violence organization that started the campaign.
"I was 9 … It was my father. He raped me until I was 17," says one tweet. Another: "I was between 11 and 14. It was my brother. I'm now 57 and still a victim of that past."
Cries intensified further in recent weeks, as France's highest court prepares to hear a high-profile case involving a woman who says she was repeatedly raped by 20 firefighters over a two-year period, when she was between the ages of 13 and 15. (The woman, who has been dubbed "Julie" by the French media, is now 25.) Three of the firemen said they did in fact have sex with Julie when she was a minor, two of whom admitted to having "group sex" while on duty, though they argue that relations were consensual. In a journal entry dating back to the period of alleged abuse, Julie wrote that she was "terrified and paralyzed with fear." None of the firemen have been charged with rape, which carries a 20-year prison sentence; currently, only the three men who have admitted are charged with sexual violation, which carries a prison sentence of seven years. The case will be heard on February 10.
Now the government is seeking to set the age of consent at 15.
Amid mounting public pressure, on Tuesday, French Justice Minister Éric Dupond-Moretti announced that the government seeks to set an age of sexual consent at 15. "An act of sexual penetration by an adult on a minor under 15 will be considered a rape," Dupond-Moretti said on France-2 television. While exceptions would be made for teenagers in relationships with one another who have consensual sex, he continued, consent could no longer be cited to diminish charges in cases involving minors. Per a Justice Ministry spokesperson, the legislation should be enshrined "over the three next months," Politico's Playbook Paris reports.
The Justice Ministry is also considering extending or even abolishing the statute of limitations on sexual violence against children, given how long it can take victims to come forward.