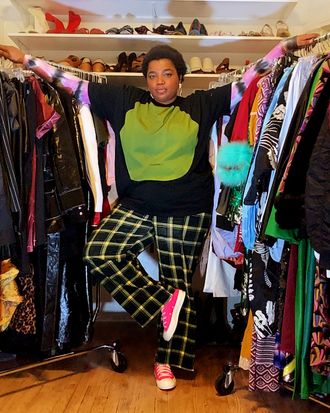 Stylist Gabriella Karefa-Johnson is on a roll. In December, she became the first Black woman to style a Vogue cover, dressing model Paloma Elsesser. One month later, she worked with the incoming vice-president of the United States, Kamala Harris, on her much-talked-about Vogue cover. One month after that, she styled Gigi Hadid's first solo Vogue cover, which came out today. And she also styled the March Vanity Fair cover featuring Billie Eilish. In the middle of all this, she styled and starred in Converse's spring 2021 look book — a job, she says, that would have made her teen self proud.
A central theme of the Converse look book was breaking barriers. It was photographed over Zoom by Quil Lemons (who also did the Eilish Vanity Fair cover) and also stars skaters Evan Mock and Kaue Cossa, the artist Nicole McLaughlin, and the rapper the Hxliday. "I was really excited to work with Converse because I've been a fan of the brand for forever," said Karefa-Johnson in an interview last week. "In fifth grade, all I wanted was pink high-top All Stars — I was like, This is the way that I will be cool — and I've worn them ever since."
Below, Karefa-Johnson talks about her personal style and how this project brought it out.
So you just got back from boxing at Gotham Gym. I've been following this new routine on your Instagram — it seems fun!
It is fun. The best thing about boxing is that it's an immediate anxiety reliever, because it's all about, you know, brute force and beating up inanimate objects. Funnily enough, Converse are actually amazing boxing shoes. I'm not kidding. My trainer wears them every day.
Tell me about this Converse look book and what your involvement was. 
I styled the Converse look book, and I was also in it. It was one of my first times in front of the camera, and it was a comedy of errors because, as you know, we are very much in stay-at-home mode, and the shoot was done over Zoom. Quil Lemons has become a pro at this, though — he's shot editorial ads and personal projects all via Zoom in the past 12 months. So he really drove the show, and I was very happy to follow his lead. I was shot in my second bedroom, which I converted into a way-too-lavish closet for myself.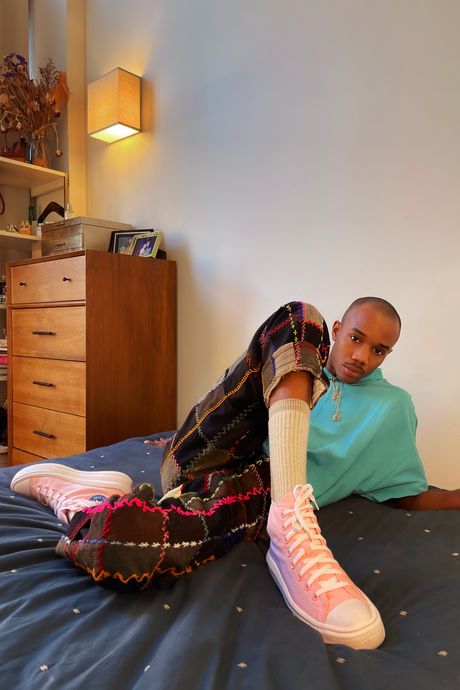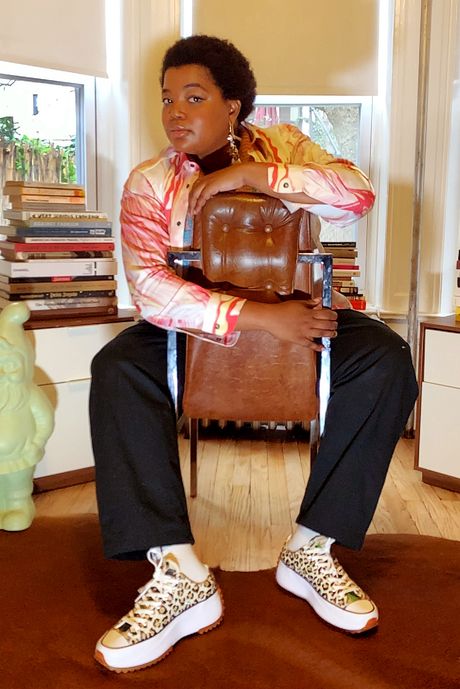 You've been involved with another major Converse moment in the past few months: the Kamala Harris cover for Vogue. What can you tell me about that shoot? When did you first get the call? 
Well, I got the call really close to when we needed to shoot, which, as you can imagine, makes a lot of sense because we're dealing with one of the leaders of the free world. It was an exciting opportunity, and it's work that I'm still incredibly proud of. It was daunting, but we pulled something off that was extraordinary given the circumstances. It sparked a lot of discussion. But ultimately it was a moment of glorifying this brilliant Black female politician who brought humanity and compassion back to that office, and just to be involved in it in any way was a huge honor.
Converse obviously symbolizes a lot for Kamala Harris. What did it mean to have Converse on the cover of Vogue magazine?
It was important to celebrate all of who Kamala is, and her personal style is something that garners attention, for better or for worse. Her commitment to dressing the way that she always has, despite being in a position of extraordinary power and under incredible scrutiny, is admirable to me. She wears Converse all the time. We've seen her in Converse all the time. And it just, I think — the entire ethos of this cover was to present a holistic vision of the multitudes of this incredible historical figure.
You've done a lot of work lately with the next generation of talent, from Paloma Elsesser to Quil Lemons. What's the energy like on set (or over Zoom, in this case)? Is it different from what you've experienced in the past? 
I was just thinking about this because Paloma and I were working together on another project. It's not just like, Oh, we're friends, and it's great that we get to hang out and work together at the same time. There's also this real commitment to making these sets and experiences fun. We want it to be vibe-y in a way that's a departure from what one thinks of when one thinks of fashion shoots. There is this expectation of a certain coldness and self-seriousness, but I find that the best pictures are taken when everyone feels entirely at ease and comfortable and like they can actually be themselves, rather than fulfilling some expectation of what they should be in a work environment.
It can become complicated, especially with all the young Black collaborators that I work with, because there is an extra layer of consideration when you start thinking about respectability politics — the idea that, to be considered professional in spaces that have not always included people who look like us, we have to curb ourselves or conform to the idea of what a fashion-shoot team should be like. We ignore all of that when we're together. And I think, in a way, we're shaping a new kind of system in which there is some sort of capital to being yourself and being playful and having fun. At the end of the day, who wants to create work under duress?
With this Converse project, it was just about being the most comfortable and most authentic version of ourselves possible. There was no posturing.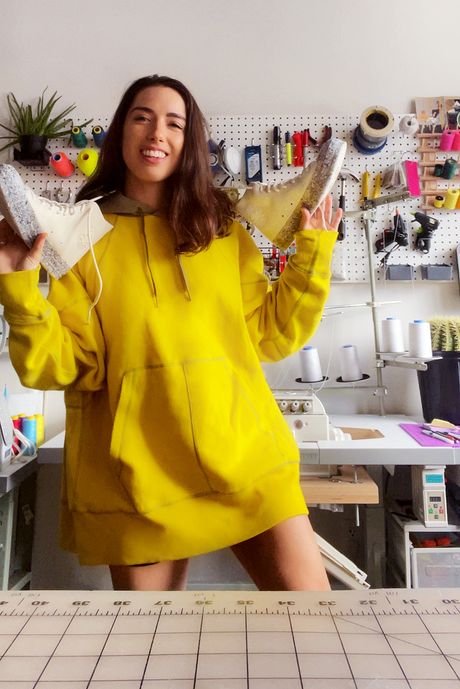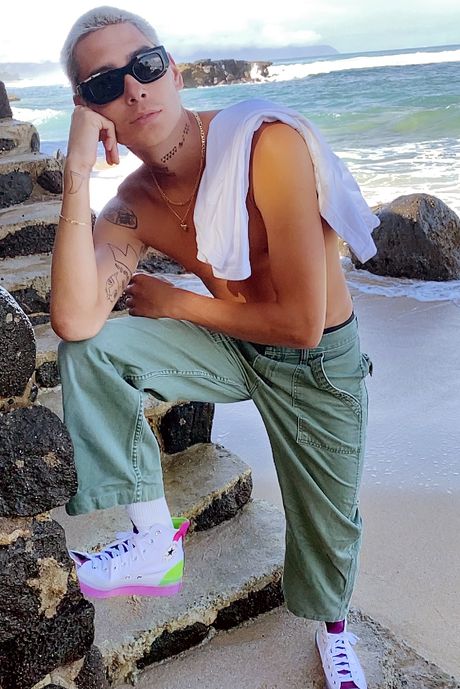 Does that translate to your work as a stylist? What makes a Gabriella Karefa-Johnson look a Gabriella Karefa-Johnson look?
I am what I like to call an intuitive stylist [laughs]. I really love the spontaneity and the tactility of getting my hands on the clothes and figuring out the look as I go. I had a lot of flexibility with Converse to play around before the shoot and during the shoot, and I gave a lot of agency to the subjects in the look book to incorporate their own pieces and their own personal style. We would have a conversation about what the look is, rather than me being like, "This is what I want it to be." It doesn't look like a GKJ look if I've controlled every element of it. Chaos and spontaneity are the two key ingredients to my styling, and it's really nice when you get to work on commercial projects where that is not just allowed but encouraged.
A central theme of the Converse look book is breaking barriers. With the Paloma Vogue cover, you became the first Black woman to style a cover for the magazine. It was also your first Vogue cover. How did it feel to accomplish that goal? Is this how you envisioned it?
You know how your Instagram feed sometimes gets populated with very cheesy quotes that you used to ignore, but now you read them because you have no hope? [Laughs.] That is happening to me in a very real way. I read this quote that was like — I can't remember it verbatim, but the gist of it was, "Remember that what you're worrying about today was what you dreamed of doing yesterday," or something. And it resonated with me because I have always wanted to style a Vogue cover, and I've always wanted to be a Vogue editor.
When I got the call that I was going to be doing that cover, and that I was going to be doing it with Annie Leibovitz, I tried to remember me as an assistant on an Annie Leibovitz shoot, and it was very hard to get in the same frame of mind: that I was an assistant thinking that it was an impossibility. It really felt like a testament to how hard I've worked to get to where I am. It was an incredible honor, but it wasn't the greatest shock in the world. I'd worked for it, and I deserved it. I hesitate saying that, because I think it can sound hubristic, but it should be interpreted as somebody who set goals and worked really hard and who wasn't sure that they would come true. But when they did, it felt like it was the right time and the right opportunity. And I think that's why that cover was as successful as it was, because I was ready for it.
At the end of the day, all of these projects are helping create a body of work that makes these incredible American heritage brands like Converse become familiar with what I do. There are so many people who could be standing in the same shoes that I'm standing in, and I think that more of those people are being seen because we're out here grinding and showing them that they can do it too.
What did young Gabi look like in her Converse? 
I was a Southern California girl, and in the early aughts, the aesthetic of Avril Lavigne was the ruling aesthetic of Southern California suburbia. Everybody shopped at Hot Topic and Tillys. I remember when she wore a pair of Converse in the "Sk8er Boi" video, my sister and I were just like, Okay, well, that's it for me. Like, This is what we're going to serve to the world. I already had my pink Converse, but I decided to get black Converse and these laces from Hot Topic that were black-and-white checkered. I really served Inland Empire early-aughts Avril Lavigne realness. That was my look for way too long, and it's still partly what I want to look like.
Now that you say that, I've definitely been subliminally referencing Avril Lavigne lately. The tank top with a tie …  
She rules everything! Secretly. It's like the Illuminati.
Last question: What would young Gabi say about Gabi's success right now? Gabi doing covers and a Converse look book? 
She would probably be like, "Did you get to keep the shoes?"
This interview has been edited and condensed.